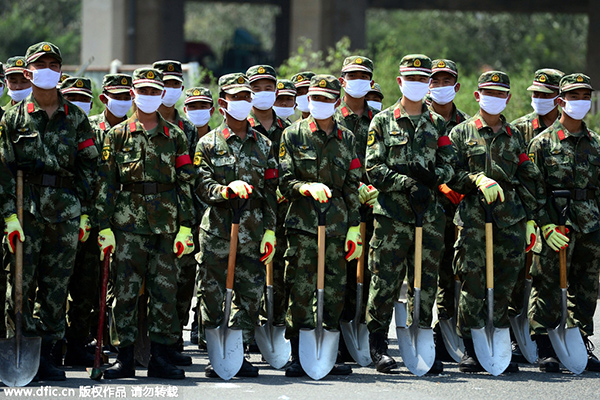 Armed police arrive at the site of a blasting warehouse for search and rescue efforts, Aug 13, 2015. [Photo/IC]
A team of 214 military specialists in handling nuclear and biochemical materials has arrived in the northern Chinese city of Tianjin following Wednesday's warehouse explosion, thought to have been caused by volatile chemicals on site.
As of 7:20 pm,
the death toll has risen to 50, including 17 firefighters. About 701 people have been admitted to hospital, among whom more than 70 are severely injured.
The personnel, all from the Chinese People's Liberation Army (PLA) Beijing Military Area Command, left Beijing at noon on Thursday, led by Deputy General Chief of Staff Wang Zhengrong.
The military department has also organized 130 militiamen to assist with the rescue operation, including by controlling drones and piloting helicopters to observe the site and drop water on the flames.
A total of 125 officers and soldiers on reserve duty from Tianjin Garrison Command are also working on the site.
The PLA Beijing Military Area Command sent 45 medics to set up clinics 3 km from the blast site earlier on Thursday. Seventy-eight patients have so far been treated at the clinics and transferred to other hospitals.
So far more than 1,000 firefighters, 151 fire engines and a drone have been dispatched to the blast site.
The Tianjin Port Group Co. said dozens of its employees were unaccounted for and a search operation is under way.

Facts you need to know about deadly blasts in Tianjin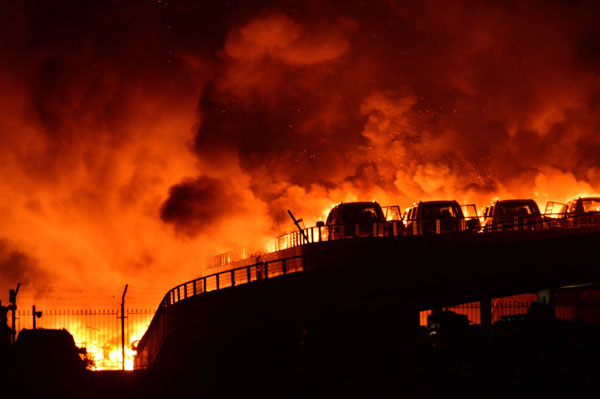 Smoke and fire are seen after an explosion in the Binhai New Area in North China's Tianjin municipality on Aug 13, 2015. [Photo/Xinhua]
[Overview]
An explosion ripped through a warehouse at the Binhai New Area in Tianjin at 11:34 pm on Wednesday. The warehouse stores dangerous chemical goods.
Residents near the site said shockwaves from the explosion broke doors and windows. The impact could be felt in areas of Hebei province, several kilometers away.
The near-earthquake magnitude of the first blast was 2.3, the equivalent of detonating three tons of TNT. The second blast happened 30 seconds later and it was even more powerful, the equivalent of 21 tons of TNT, according to the China Earthquake Administration.
Another two major blasts occurred at 9 am on Thursday. A series of small explosions came around every 10 minutes.
Binhai New Area special economic zone is part of the Bohai economic rim and home to numerous Fortune 500 companies. A cluster of logistics companies operate in the area immediately surrounding the blast site and virtually everything within a three-kilometer radius as been damaged or destroyed: shipping containers lie crumbled on the dockside, port buildings are reduced to twisted metal frames.
About 1 km away are two residential communities where burned-out cars block the streets and broken glass litters the ground. Most of the dead and injured are migrant workers who live in these communities. Many fled their homes in pajamas after being thrown from their beds by the force of the blasts.
President Xi Jinping and Premier Li Keqiang have urged all-out efforts to save people and warned that "those responsible will be seriously handled".
Public Security Minister Guo Shengkun is on site and personally leading the emergency response.
The warehouse belongs to Tianjin Dongjiang Port Ruihai International Logistics Co. Ltd, a company licensed to store, distribute and import dangerous chemicals. The cause of the blast is still unknown but some company executives have already been detained by police.