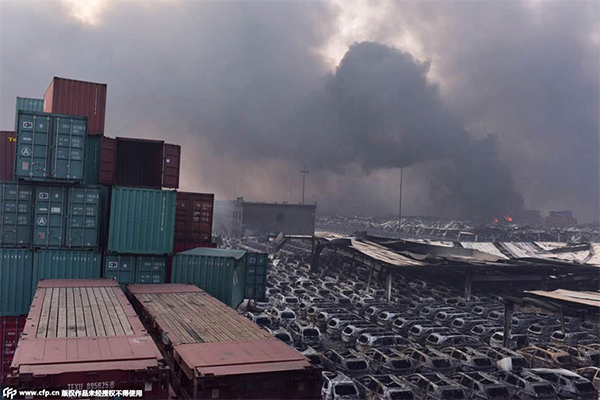 Smoke rises over damaged containers and cars after a huge explosion rocked the port city of North China's Tianjin, August 13, 2015. [Photo/CFP]
Tianjin has installed 12 temporary monitoring stations near the blast site in Binhai New Area to monitor the air quality after the series of explosions, in which some pollutants such as toluene have exceeded the national standards, Tianjin Daily reported.
As of 12:00 pm, death toll from a massive warehouse blasts in the northern Chinese port of Tianjin has risen to 44, including 12 firefighters. About 520 have been admitted in hospital, among which 66 people are severely injured.
The samples collected at 5:30 am on Thursday showed that the concentration of toluene, widely used as an industrial feedstock and as a solvent, has reached 3.7 milligrams per cubic meter in the air, higher than the national standard of 2.4 milligrams per cubic meter, the report said.
Besides, the concentration of volatile organic compounds and major air pollutants, were 5.7 milligrams per cubic meter, also exceeding the Tianjin municipal standards (2.0 milligrams per cubic meter).
But other major air pollutants under regular supervision like sulfur dioxide, carbon oxide, and PM2.5 and PM10 particulate matter did not see a rise in concentrations as of 11 am).
The drainage outlet to the sea has been closed and the environmental authority is conducting an investigation into water quality, the report said.
In neighboring Beijing 150 km away, local authorities denied the rumors that the blast influenced air quality in the capital.
The capital is currently seeing wind from the southwest and west, and Tianjin is located in the southeastern direction so the pollutants from the blast will go to the Bohai sea, thus having no influence on the capital, the Beijing Environmental Protection Bureau said on Thursday.
Besides, the monitoring stations located in the southeastern region, in the direction of Tianjin have not detected any abnormal situation in the air quality or sudden rise of air pollutants on Thursday morning after the blast.
All the major air pollutants indexes are at normal levels, according to the official statement released on the bureau's official microblog account.