Seven people went on trial in an arson case caused by land disputes in Pingdu, Shandong province, on Wednesday in Qingdao.
The defendants, including two accused of being the masterminds, are charged with arson and the crime of picking quarrels and provoking trouble.
According to the Qingdao Intermediate People's Court, the arson arose out of a land dispute in the village of Dujiatuan. The fire killed one person and injured three.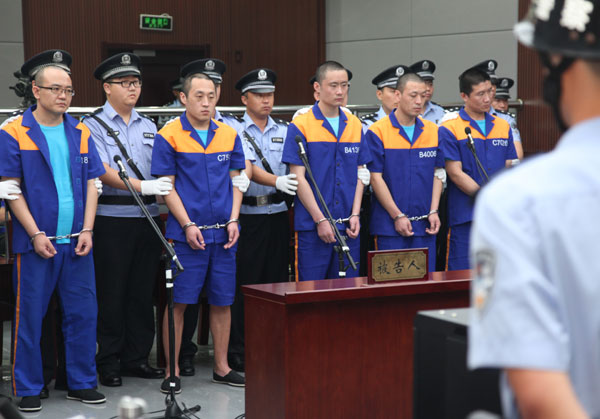 Five of the people accused of arson and provocation in a land dispute case in Pingdu, Shandong province, in March that caused one death and left three people injured. They were put on trial at a court in Qingdao, Shandong, on Wednesday. Provided to China Daily
Geng Fulin, 63, who was camping near his farm to protect it from being illegally occupied, was burned to death after his tent was set on fire on March 21. Three other villagers who camped with him were seriously injured.
The makeshift tent was the "stronghold" the villagers were using as they tried to defend their land from being occupied by developer Qingdao Guihe Real Estate Co, according to local villagers.
The alleged masterminds of the arson were Du Qunshan, a village official accused of having grabbed land from local villagers, and Cui Lianguo, a legal representative of Qingdao Guihe Real Estate Co.
The court said that in order to keep real estate construction moving forward, the two decided to scare the villagers away from the tent. Another suspect, Wang Yuefu, along with an additional four suspects, set the tent on fire, the court said.
In addition to the casualties, villagers' belongings worth 9,770 yuan ($1,590) were also burned in the fire.
Relatives of the injured villagers attended the hearing.
Li Chongyou, brother of injured villager Li Chongnuan, said that his family hoped the court will give justice to his brother.
"The fire seriously injured my brother's feet so that he cannot walk normally now. We have spent more than 80,000 yuan to treat him. These criminals must pay for what they did to him," he said.
Under Criminal Law, arson that leads to death or extremely serious injuries can bring sentences of more than 10 years in prison, life imprisonment or death.
The trial will continue on Thursday, and sentences will be announced later.
Yan Yiqi contributed to the story.
Contact the writers through xiechuanjiao@chinadaily.com.cn