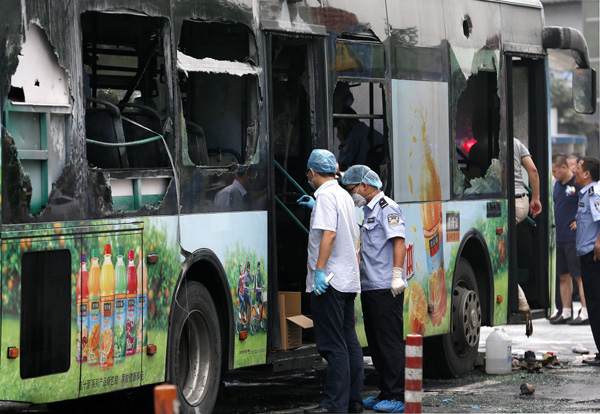 Local police inspect the wreckage of a bus that burst into flames in downtown Hangzhou, the provincial capital of Zhejiang province. The fire injured 32 people on Saturday, leaving 24 in serious condition. Photo by Lin Yunlong / For China Daily  More photos
HANGZHOU - A bus fire that left 32 injured in East China's Hangzhou on Saturday was caused by arson, police said Sunday morning.
Police have found that the bus fire was ignited by banana oil, a lacquer thinner. A man seriously injured was supsected to be the arsonist, who is being treated in hospital along with 28 others.
The fire broke out at around 5 pm Saturday, when the No 7 line bus carrying 80 people was on the Qingchun Road in the downtown of Hangzhou, the capital of East China's Zhejiang province.
A source with the Hangzhou Public Security Bureau told Xinhua on Saturday that police have not found any clue showing the accident was related to terrorism.
Witnesses said drivers of some nearby private cars took out their extinguisher to join in the efforts to put out the bus fire. Passengers rushed out after the bus's front door opened. Some smashed window glass and fled from the bus.
Hangzhou bus fire injures 32 passengers
A bus in the downtown area of Hangzhou, Zhejiang province, caught fire at 5 pm on Saturday, injuring 32 people, including 24 critically.
An initial investigation showed that the fire was not caused by the 12-meter, diesel-fueled bus itself, as the fire did not come from its engine or electrical circuits. More