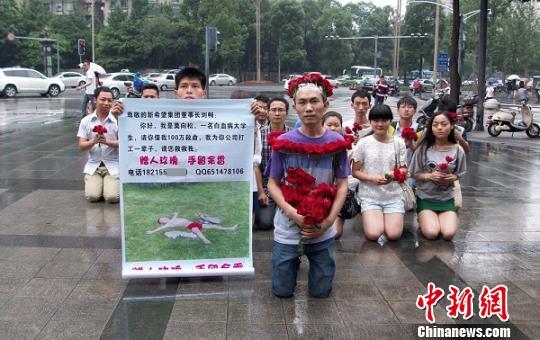 A Chinese college student holding roses and kneeling before a billionaire to borrow money for medical treatment has triggered a heated debate on social media. Even the country's major newspapers penned opinions on whether or not the action was a stunt.
Mo Xiangsong, a poor student suffering from leukemia, knelt outside a building belonging to the New Hope Group, one of China's largest feed producing and agribusiness companies, in Chengdu, capital of Southwest China's Sichuan province this week.
Accompanying Mo were his 14 classmates from Chengdu Vocational College of Agricultural Science and Technology. All held roses and went down on their knees asking the company's chairman, Liu Chang, to lend Mo 1 million yuan ($160,100) to cover medical bills.
One held a poster reading: "Lend me one million yuan, and I will pay you back by working all my life."
Mo's action immediately drew a public response with netizens and commentators believing he was hijacking morality, or using social opinions and moral ethics to force others to do something they would normally refuse.
Wang Zhi'an, an investigative reporter on China's national TV station, posted a micro blog saying Mo was coercing the billionaire to donate money while ignoring his willingness. The People's Daily also joined the discussion on Friday, posting on its micro blog that forcing people to donate money is almost the equivalent to robbing them. The post was forwarded 2,547 times within 12 hours, with more than 1,900 netizens giving it a "like."
Yet Mo also had supporters. The Beijing News on Friday published a commentary, urging the public to understand a terminally ill man's survival instinct. The commentary appealed to society to show more sensitivity when looking at Mo kneeling, as he has no other choice.
Mo was adopted as a baby following his mother's suicide when he was just a few months old and his father was treated for severe mental issues when he was about one. His adoptive parents cannot afford further treatment after spending more than 100,000 yuan.
It is not the first time Mo has attracted public attention by way of unusual actions. Several days ago he was reported to be sunbathing, half-naked, in a public place "killing cancer cells by sunshine." The act brought him donations of less than 10,000 yuan, far from his demands for medical fees.