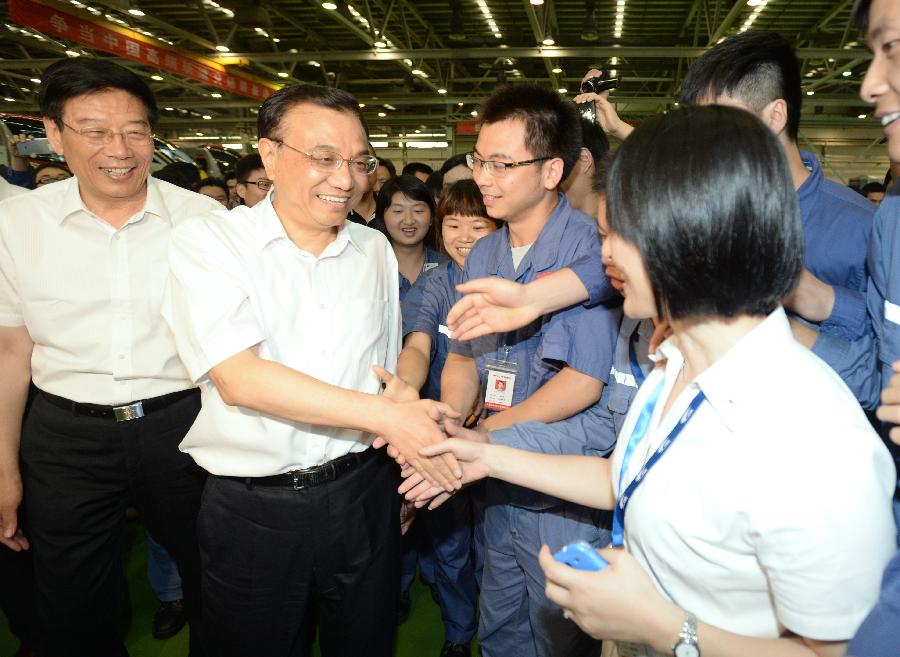 Chinese Premier Li Keqiang (2nd L front) shakes hands with employees while visiting train manufacturer CSR Zhuzhou in Central China's Hunan province, July 4, 2014. Li made a research and inspection tour in Hunan on July 3 - 4. [Photo/Xinhua]
CHANGSHA -- China needs to use innovation and intelligence as well as diligence to support its economic upgrading and job creation, Premier Li Keqiang has said.
China has abundant human resources, a huge market and deep-rooted culture, so there is much potential to develop its creative industry, Li said during an inspection tour of Changsha, the capital of central China's Hunan province, and Zhuzhou city in Hunan on Thursday and Friday.
China should improve its products through intelligence and bolster job creation and industrial development through innovation to create a better Chinese image on the global stage, he said.
Li encouraged college students to unleash their potential through employment and running businesses, saying the government needs to create a platform for them and the whole society should encourage innovation and be tolerant of failures.
The size of market for Chinese products depends on the potential of creativity. To make Chinese-manufactured equipment flourish on the global market, its competitiveness should be giving clients most bang for the buck and its lifeline lies in the high quality, Li stressed.
Key projects conducive to economic restructuring including railway building in central and western China are important targeted controls measures, Li said.
China needs to continue streamlining administration and delegating more power to lower-level governments to spur market vitality. Governments need to create a fair competition market environment and enhance their efficiency to help enterprises increase profits, he added.