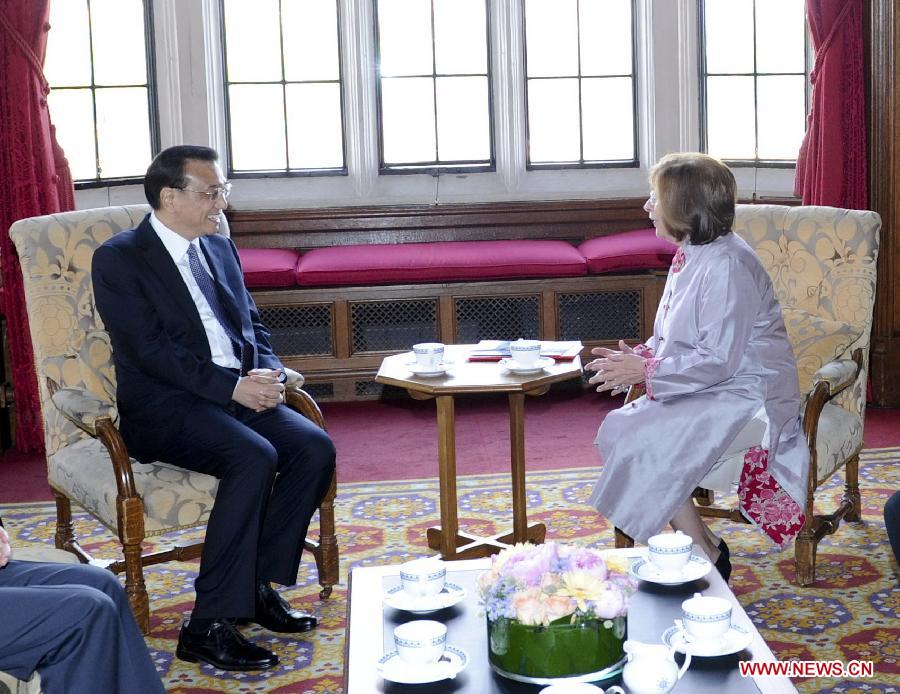 Chinese Premier Li Keqiang(L) meets with Lord Speaker of the British House of Lords Baroness D'Souza in London, capital of Britain, June 18, 2014. [Photo/Xinhua]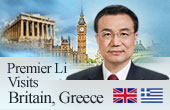 LONDON -- Visiting Chinese Premier Li Keqiang met with Lord Speaker of the House of Lords Baroness D'Souza on Wednesday, calling parliamentary communication "an important part of bilateral ties."
The China-Britain relations are moving forward on the right track, with their cooperation fields expanding continuously, said Li.
"In my visit, we have strengthened political mutual trust, deepened people-to-people exchanges and promoted cooperations in economy and trade, science and technology, education as well as finance, laying a good foundation for our future development," said Li.
Communication between legislative bodies of the two nations plays an important role in enhancing exchanges in politics, economy, culture and on people-to-people level, said Li.
"I hope the two parliaments could further enhance their communication and cooperation. We are happy to see more British lawmakers to visit China and hope to work together with them to build a cooperative bridge for the bright future of mutual understanding," said Li.
With a deepening cooperation, China and Britain enjoy close communication, said D'Souza, who extended warm welcome to Li.
"China is integrating into the international community with more openness, and the British society hopes to learn more about China," said D'Souza.
She said the British Parliament paid great attention to develop relations with China, and hoped the two sides could keep regular communication, tie up the friend groups of the two legislative bodies, so as to promote Britain-China relations.
The Chinese premier is in London for an official visit to Britain. His ongoing two-nation Europe tour will also take him to Greece.