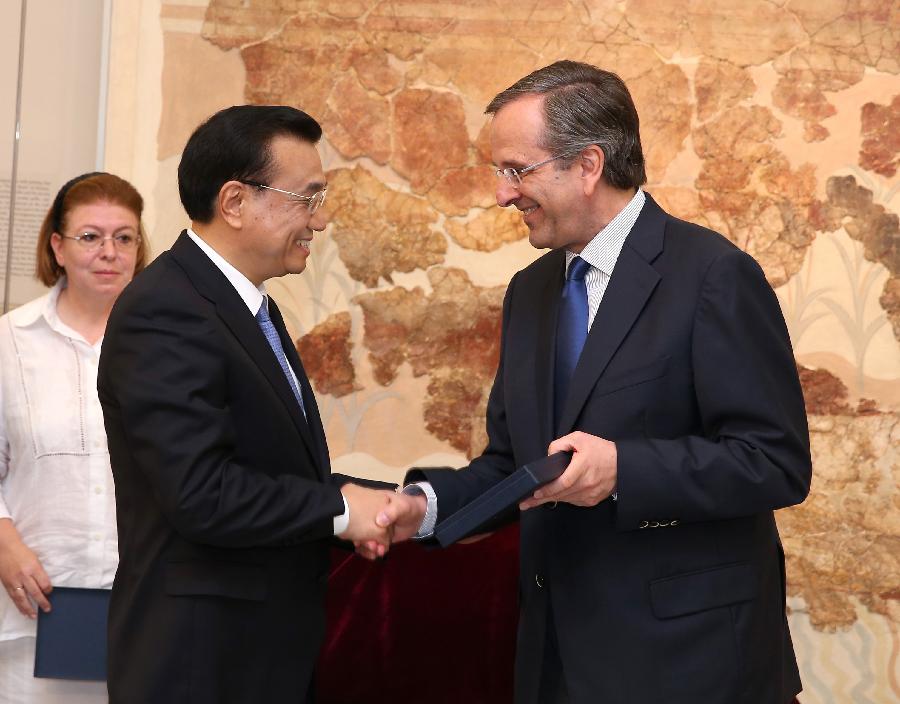 Chinese Premier Li Keqiang (front L) and Greek Prime Minister Antonis Samaras (R) attend the opening ceremony for the new hall of the Heraklion Museum in Heraklion, Crete, Greece, June 21, 2014. [Photo/Xinhua]
HERAKLION, Greece - Chinese Premier Li Keqiang and his Greek counterpart, Antonis Samaras, on Saturday witnessed the opening of the new Heraklion Archaeological Museum in Crete, pledging to beef up bilateral cultural exchanges.
The museum, located in the center of Heraklion, is the best museum in the world for Minoan art, and houses the largest collection of artifacts of the Minoan civilization, which flourished in Crete 4,000 years ago.
Describing civilizations as the crystallization of human wisdom, Li said cultural exchanges serve as an important basis for country-to-country relations.
China and Greece, as two countries with great civilizations, share similar cultural concepts, including the love for peace, Li said, adding that the unique features of Eastern and Western civilizations are nothing but indications of the diversity of human civilizations.
Recalling that the two sides signed a set of cooperation deals during his visit, including setting up cultural centers in each other's country, Li said China and Greece have huge potential for cooperation in politics, trade and culture.
To rev up cultural exchanges and learn from each other, he added, is conducive to promoting all-round cooperation between the two countries.
"We are ready to make concerted efforts with Greece to tap our cooperation potential and make our cooperation shine more brightly not only in Europe but in the world," he said.
Samaras, for his part, said ancient civilizations have linked the two countries together and built a bridge for exchanges and cooperation between the East and the West.
Greece will always be a friend of the Chinese people, he said, adding that Li's visit is very fruitful and bilateral cooperation is of great importance to Greece.
Greece, he said, hopes for deeper and broader win-win collaboration with China.
Crete is the cradle of ancient Greek civilization. The museum was founded in 1883, and the reconstruction took about seven years.
Greece is the second leg of Li's two-nation Europe tour, which first took him to Britain.