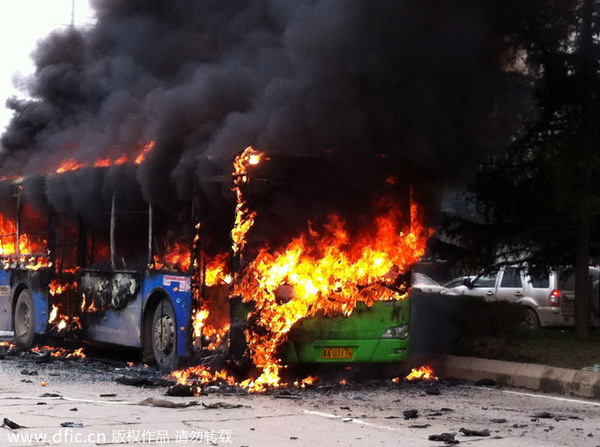 A bus burns in front of a primary school in Guiyang, capital of Southwest China's Guizhou province, at around 12:37 pm, Feb 27. At least five people were killed in the incident, according to firefighters. The cause of the fire is being investigated [icpress.cn]
GUIYANG - A fire on a bus that killed six was a criminal act and a suspect has been identified, police in southwest China's Guizhou province confirmed.
The fire was started at around 1 pm Thursday as the bus was passing a primary school in the northern part of Guiyang city. The fire spread quickly and many people simply did not notice the emergency hammers to smash the windows, according to survivors.
A four-month-old boy was among the six dead.
The suspect is yet to be arrested and a further investigation is underway.
The 35 injured, including one in critical condition, are being treated at local hospitals.
Related story:
Death toll in China bus fire rises to 6
At least five killed in SW China bus fire