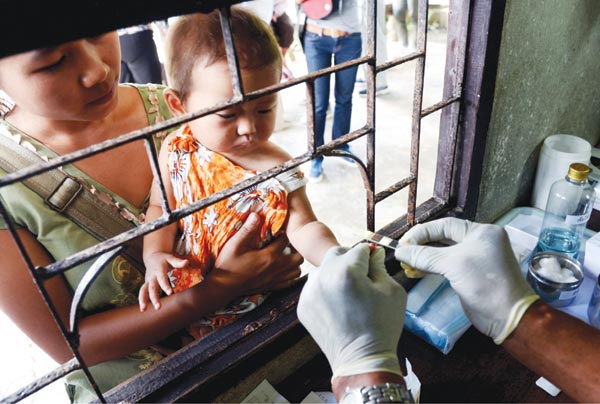 A Thai health official performs a blood test on a child at a clinic in Kanchanaburi province. Since the 1980s, Thailand has been investing in rural facilities, and, in 2001, the country established a successful and affordable public healthcare system. [Photo/AFP]
When the first outbreaks of the deadly severe acute respiratory syndrome and avian influenza surfaced they caught health systems in Asia totally off guard, highlighting the need to strengthen regional health collaboration.
Since then, the region's health systems have seen vast improvements but they still face challenges as populations get older and an emerging middle class demands higher quality services, health analysts say.
Healthcare spending in Asia last year totalled $1.34 trillion and is expected to grow at a compound annual growth rate of 10.5 percent over the next five years to reach $2.21 trillion in 2018, according to Forbes magazine.
The Association of Southeast Asian Nations has identified healthcare as a priority sector as the region moves towards economic integration at the end of 2015.
Phua Kai Hong makes the point that within the region there are "many countries at different stages of development and health is a function of that development".
As associate professor of health policy and management at the Lee Kuan Yew School of Public Policy, National University of Singapore, Phua is one of the region's leading experts on healthcare.
"Healthcare is a complex issue," he says. "Over the last few decades we have seen growth rates throughout the region grow very fast but they have not been reflected in healthcare. When it comes to healthcare the public sector has always lagged the private sector."
He explains that in some countries, the private sector moved so fast it was beyond the capacity of some governments to respond.
"That is when you start to see the glaring disparities, not only in incomes but in healthcare," he says.