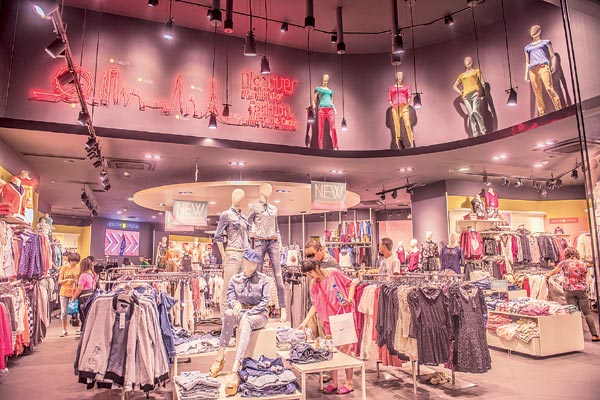 Dresses on display at a Cache-Cache store in Beijing. The label has opened 900 shops in China since 2005 and expects to have 1,000 by the end of this year. [Photo/China Daily]
If anyone is adept at high-profile positioning and selling luxury fashion brands, it is the French, but at least one French company has made a virtue of going after a more modest market in China, and its efforts are paying handsome dividends.
And the rewards for Group Beaumanoir are coming not only in cash but also in accolades from its industry peers. The company, which specializes in affordable ready-to-wear clothing, won the Audacity Award in the Top French Firm Awards in 2013 for the development of its brand Cache-Cache in China. The French Chamber of Commerce and Industry in China presents the awards each year.
Olivier Guibert, president of the chamber, says the decision was based on Beaumanoir's adaptation of its business model to fit local conditions, the financial risks taken and the decentralization and promotion of local management teams.
Worldwide, the company has developed six labels for different fashion markets: Cache-Cache, Patrice Breal, Scottage, Bonobo, Morgan and La city.
Roland Beaumanoir, president and founder of Group Beaumanoir, says China is a huge, unique market, and the company has needed to adjust to it, and in some cases go out on a limb in doing so.
Cache-Cache, which celebrates its 30th birthday next year, made its first overseas foray when it set up operations in Shanghai in 2005. Nine years later it has 900 stores in China, more than half of its 1,535 stores worldwide. For the past few years in China, its revenue has grown an average of more than 30 percent a year and its revenue was about 1.6 billion yuan last year, it says.