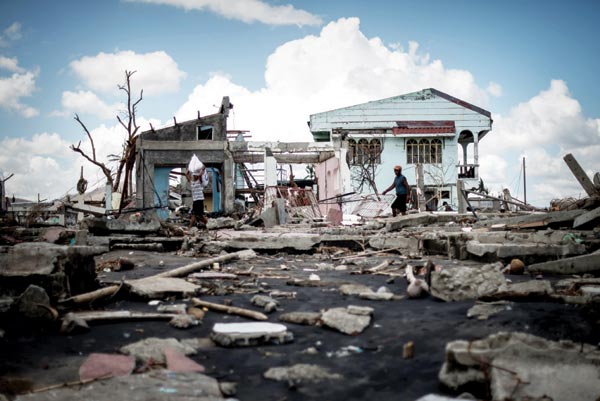 Typhoon Haiyan devastated large areas of the Philippines last year. Asia's coastal regions are particularly vulnerable to the effects of climate change which has a direct impact on economic growth. [Photo/AFP]
Global warming is putting a damper on economic development in Asia
As the wild card in the future of the Asia Pacific's economic development, climate change is emerging as one of the most significant priorities for policymakers.
Weather-related insurance losses have increased around the world, but most visibly in North America and Asia. In eastern Asia, average losses every year have doubled over the last decade to more than $20 billion, according to Munich Re, a reinsurance company.
Since 1970, climate-related natural disasters have cost $259 billion to China, $64 billion to Japan and $15 billion in South Korea, according to the Economics of Climate Change in East Asia report released last year by the Asian Development Bank.
That's less than 0.2 percent of GDP, but the incidence of natural disasters and their cost is rising.
According to the World Bank, climate change can: Decrease the amount of water available and its quality; lead to more floods or droughts; cut water regulation in mountains; make hydropower less reliable and limit biomass production; lead to more waterborne diseases like malaria, dengue and cholera; increase the number of deaths from extreme weather events and the destruction they cause; hurt fisheries and damage ecosystems.
Earlier this year, climate change was a major discussion point at the World Economic Forum in Davos, and is likely to be part of the agenda during another meeting in Tianjin in September, says Lin Boqiang, director of the China Center for Energy Economics Research at Xiamen University. Lin was part of a panel at the WEF to consider the challenges and possible solutions to deal with climate and resource risks.
The context is significant. A new report by the Intergovernmental Panel on Climate Change released this year by the United Nations said that it may be difficult to stop mean temperatures from rising by 2 C.
"When you talk about Asia, it is mainly talking about China. No countries can compete with China in terms of scale. Though India has a large population, its energy consumption is low, so its contribution to emissions is limited," says Lin.