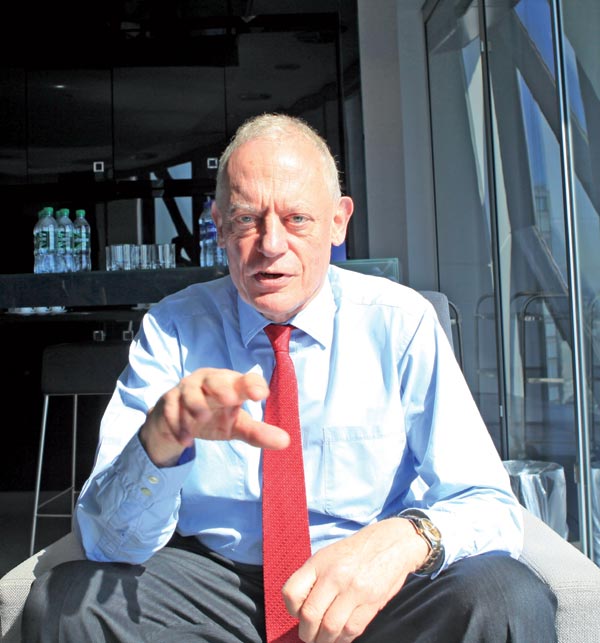 Gerry Grimstone, chairman of TheCityUK, has had a keen interest in China's economic reforms since 1992. Cecily Liu / China Daily
Shanghai FTZ will be an important step in China's economic reform
China's latest financial reforms are necessary as the country becomes increasingly engaged with the global economy and the pilot Shanghai Free Trade Zone is a good mechanism to effectively facilitate these reforms, says Gerry Grimstone.
The chairman of TheCityUK, a private association for financial and professional services, says reforms to be implemented in the Shanghai FTZ and subsequently across China will improve the country's global connectivity.
He says China's policy reforms in recent decades have "caused huge changes" for the country domestically, especially in the manufacturing sector, but as its economy becomes more important globally it will benefit from increasing its tertiary sectors and becoming a financial center.
"As China now becomes one of the world's greatest trading nations, it needs to spread competitiveness in other sectors, especially financial services, professional services and services in general. This is the next great leap forward for the Chinese economy," he says.
Grimstone, who is also chairman of the UK insurer Standard Life, has developed a keen interest in China's economic reforms since 1992 when he first visited the country with other foreign experts to advise the Chinese government on reforming the state-owned enterprise sector.
More than two decades later, Grimstone is taking an active role in another Chinese reform, this time as chairman of the International Experts Consultation Group, which was established last year to help the United Kingdom advise the Chinese government on policy reforms for the Shanghai FTZ.