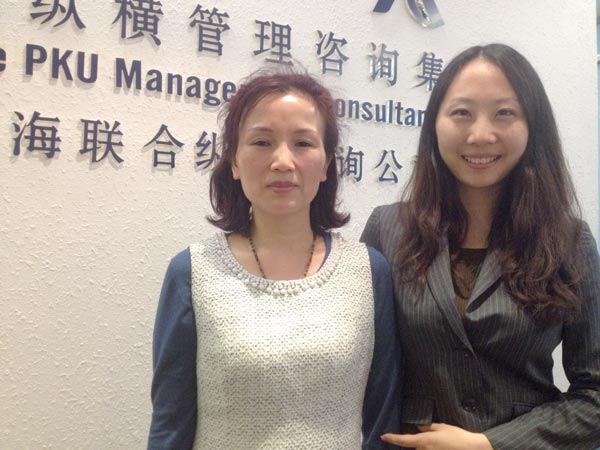 Liu Di (left), partner, and Lv Shuji,project manger, with Alliance PKU Management Consultants. Andrew Moody / China Daily
Lv Shujie says that Chinese management consultants are ready to take on the big international firms.
The 28-year-old project manager of Alliance PKU Management Consultants, one of the largest Chinese firms with around 1,000 consultants, says local firms are making advisory services more accessible.
"Ten years ago business people in China were not familiar with consultancy and it was regarded as a posh product that was expensive and probably not for them," she says. "Now it is the local firms that are making it more accessible."
Lv, who was speaking in her company's offices in Shanghai Central Plaza, says local Chinese firms also compete hard on price.
"The international consultancies often charge a minimum of 3 million yuan ($470,000) for a particular project. We might be able to do the same project with the same quality or even better for 1 million yuan," she says.
"You might even find a small consultancy with just two people charging 50,000 yuan for the same piece of work. The prices might differ but the models and methodologies would be similar."
Over in Beijing, at the headquarters in Beiyuanlu Road of another leading Chinese consultancy HejunConsulting, its vice-president Xu Dichang, says Chinese companies have the advantage of being closer to the market.
"I think we understand the market more but we still face many challenges. The international consultancies are still ahead in terms of their database and brand recognition. They remain stronger in the high end sector of the market."