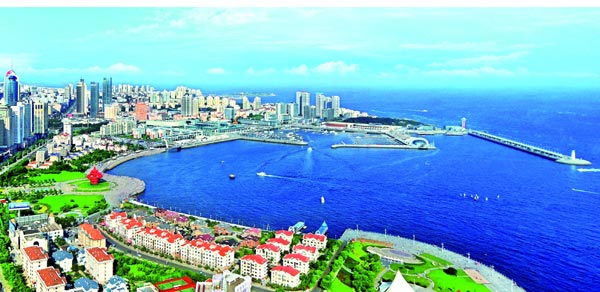 Qingdao will be an important location in the proposed Maritime Silk Road. Provided to China Daily
Marine resources will play key role in coastal Qingdao's transformation
The city of Qingdao is best known for Tsingtao beer, its German connections and the sprawling coastline that make it one of China's best holiday spots. As China embraces economic transformation, Qingdao, in Shandong province, like many cities across the country, is looking for a new place in the sun, moving from the toil and sweat of manufacturing to industries that rely more on brain power, innovation and technology.
The local government is spending billions of dollars to retool the local industry to adapt to what has been called the blue economy, in which the city is harnessing the power of its maritime economy.
The central government has called for eight special marine development zones to be created by 2020, aiming to have marine resources contribute 7.05 trillion yuan ($1.1 trillion) to the national economy by next year.
That economic shift, which is seen as building a maritime Silk Road, is geared toward drawing on ocean technology and resources beyond traditional fishing and tourism.
"One belt, one road has brought new opportunities to Qingdao," says Yao Shuqing, deputy director of Qingdao Port International Co Ltd.
"That means that as we build a new Silk Road, we are building a new economic belt. The old Silk Road was on land. The new one takes in the sea, and Qingdao is well placed for this."
As this transformation has been taking place, Shandong's marine sector has exceeded national GDP growth, growing 10.1 percent last year.
In 2012, the maritime industry accounted for more than 5 trillion yuan, the State Oceanic Administration says. Qingdao contributed 131.69 billion yuan of that, 18.2 percent higher than the year before.
"With Qingdao's research and development, innovation and environmental protection, it will be one of China's leading city maritime economies by next year," says Li Qun, the city's Party chief.
One need only look at the city's largest operating port to fully appreciate how pivotal Qingdao is for China in expanding its maritime economy.
Huangdao port is on the outskirts of the city, a 75-minute drive from the downtown area. The trip, passing over the 41.6-kilometer Jiaozhou Bay Bridge, which Guinness World Records has listed as the world's longest bridge over water, offers a small window into the hundreds of seafood farms operating in the city.