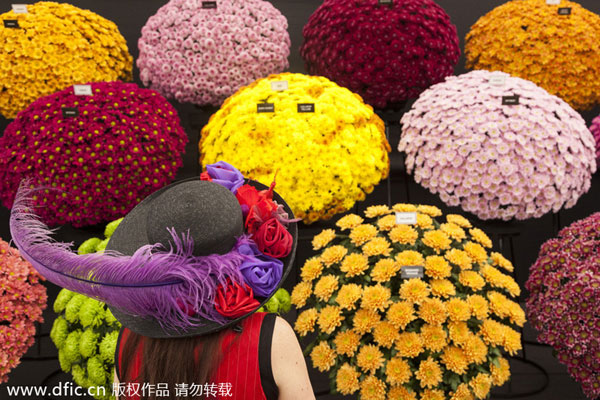 A woman with a floral hat poses in front of a stand with chrysanthemums at Press Day at the RHS Chelsea Flower Show, May 19, 2014. [Photo/IC]
Many visitors to the world-famous Chelsea Flower Show will be surprised to learn that some of the flowers in their gardens at home that they think of as being British to the roots in fact originated in China.
The Chinese plants, including lilies, hydrangeas and peonies, now commonly seen in many English gardens, were brought to the United Kingdom by plant hunters in the 19th century.
The 101st Chelsea Flower Show, staged by the Royal Horticultural Society in central London and held over five days from May 20, has given the public the chance to learn something about these plants and their journey from the Far East. The Chelsea event is one of the biggest flower shows anywhere, with more than 500 exhibitors, and attracting visitors from around the globe.
The history of the flowers of Chinese origin was part of a display by Burncoose Nurseries of Cornwall, UK, which, reflecting the Chelsea show's vintage, has 101 Chinese plants.
Charles Williams, owner of Burncoose Nurseries, says his great-grandfather JC Williams greatly contributed to China's export of flower seeds to the UK by sponsoring plant hunters on their expeditions to collect seeds.
The hunters collected seeds in remote regions of China, wrapped them in wax, brought them back to the UK by ship, and grew them in Cornwall. They also brought back pressed flowers so each species could be identified in official records.
The 101 plants exhibited represented the works of early plant hunters including Ernest Wilson (1876-1930), George Forrest (1873-1932) and Frank Kingdom Ward (1885-1958). A collection of photos taken on some of Forrest's 11 expeditions to China between 1905 and 1932 were displayed at the Burncoose stand, illustrating the adventures the plant hunters experienced and the challenges they faced.
The photographs, that were on public display for the first time, are from the Williams family archive on the Caerhays Estate in St. Austell, of which Burncoose Nurseries is a part.
The Caerhays Estate has many flower species that were brought from China by JC Williams. Charles Williams hopes the gardens' connection with China will attract more Chinese visitors. The Caerhays gardens are open to the public for more than 100 days from mid-February to early June and attract more than 14,000 visitors every year.
Transporting the flowers from Cornwall to London for the Chelsea Flower Show required weeks of preparation, Williams says. They were put into cold storage, which kept them from blooming, to ensure they would blossom and reach peak condition during the show.
The Burncoose stand was sponsored by Terra Firma Capital Partners, a private equity firm that is also a supporter of the charity The Prince's Trust, and uses its sponsorship of the Chelsea Flower Show to support the work of the charity.