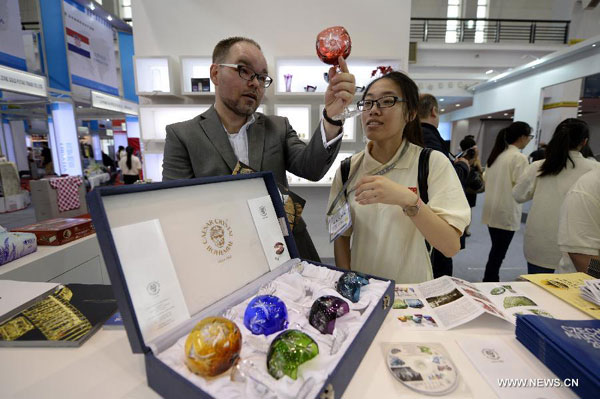 A Czech exhibitor introduces a crystal goblet to a visitor during the 2014 Central and Eastern European Countries' Products Fair (CEEC Fair) in Ningbo, east China's Zhejiang province, June 8, 2014. [Photo/Xinhua]
China will continue to seek balanced trade with central and eastern European countries by expanding imports and promoting investment in the region, China's top trade official told his counterparts on Sunday.
"We will encourage Chinese enterprises to import agricultural and animal products, especially food products, from CEE countries, and help them promote their brand recognition in China," said Commerce Minister Gao Hucheng.
"Imports of these products are in line with China's domestic demand," Gao said at the Ministerial Conference of China and Central and Eastern European Countries on Promoting Trade and Economic Cooperation, held in Ningbo.
Trade officials from 16 CEE countries including Poland, the Czech Republic and Hungary have brought 180 enterprises to the three-day event, with products such as milk, honey, canned food and cosmetics.
Trade volume between China and CEE countries has grown more than fivefold since 2003, and Gao said the number could exceed $60 billion by the end of this year, up from $55.1 billion in 2013.
The Ningbo fair also marks the latest step in reversing the trade imbalance between the two sides. Fox example, in 2013 China exported $12.6 billion worth of goods to Poland-China's largest trade partner of the 16 countries-but imported just $2.2 billion from the country.
Both sides have been working to reverse the imbalance, and there have been some improvements. In the first four months of this year, China's imports from central and eastern European countries surged by 38.5 percent.