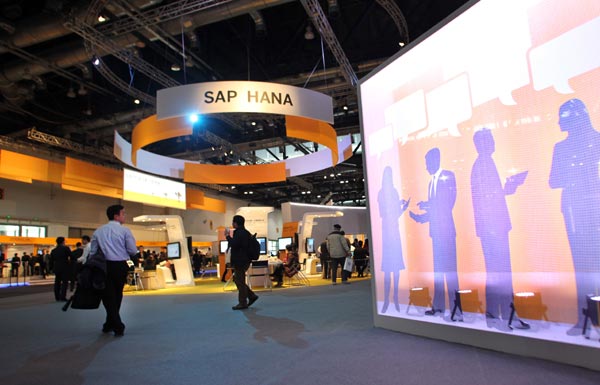 SAP AG's booth at a recent international exposition in Beijing. The Germany-based software giant has about 4,000 employees in China and offices in Beijing, Chengdu, Xi'an and Nanjing. Zou Hong / China Daily
German software major SAP AG scents huge growth opportunities in China
Hasso Plattner sat comfortably on a couch as more than a dozen journalists quizzed the 70-year-old on the future of big data, cloud computing and everything about next-generation information technology.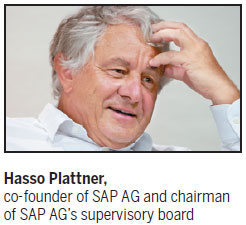 Most of the questions would better suit Silicon Valley computer engineers half his age.
Plattner, co-founder of Walldorf, Germany-based software giant SAP AG, is more than happy to explain in detail that he sometimes feels he holds a crystal ball in his hand.
"I think we are on this path that we apply computers to basically everything," Plattner said at the company's newly-opened development center in Potsdam, Germany.
He was eager to share his views about a totally digitalized future.
Portable devices have given people around the world "an unbelievable" power in their pockets and palms. People also have to put together the massive amount of data they recorded before moving on. That, the German businessman said, is where SAP comes in.
"From time to time we have to clean up the data, we have to simplify what we have done in order to continue to do more in the future," Plattner said. "SAP is a major cleanup simplifier."
Plattner has devoted his career developing analytic software. He and other former IBM researchers founded SAP in 1972, creating software to simplify enterprise accounting and payroll processes.
That was during a time before modern PCs. Technicians used punch cards to control machines and Steve Jobs, the late founder of Apple Inc, was still a developer at an arcade game company.