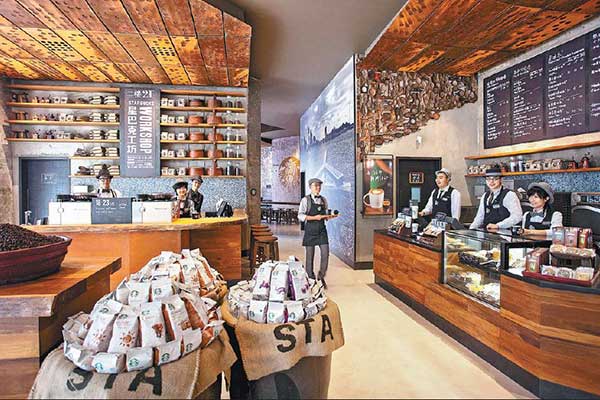 A Starbucks' flagship store in Beijing. Starbucks Corp entered China in 1999 and has more than 1,200 stores across 68 cities with plans to expand it to 1,500 stores by 2015. [Photo/IC]
Starbucks thinks out of the box to win hearts, more market share
Howard Schultz believes that unconventional ideas often make the difference between success and failure for companies in overseas markets. Meeting the parents is one such initiative that has made a big difference in China, says the chairman, president and chief executive officer of Starbucks Corp, the US-based global coffee chain.
Catching up with Schultz at the packed hall in Guangzhou during the China Partner Family Forum earlier this month, it was easy to under-stand what the multinational company was looking to achieve in China from such initiatives. Schultz himself admits that the focus is not on marketing or customers, but rather on brand equity and cultural values, as he painstakingly explains some of the recent company initiatives to a group of Chinese parents.
Terming it as the most emotional moment since he joined Starbucks, Schultz says such events help the company establish close connections with its over 1,200 employees and also tell their immediate family about how new tools, resources, education and other opportunities can make tangible benefits in their lives.
"We do not want to be seen as just another foreign company operating in China, but as someone who understands and cares for them and their families," Schultz said adding that the company held similar initiatives earlier in Beijing and Shanghai.
Schultz, son of a delivery driver, who died at an early age, grew up in the Canarsie Bayview Houses of the New York City Housing Authority, which provides public houses for low-income residents. He admits that his childhood experiences have made him realize the importance of a family and the indelible role it plays in shaping destiny.
Such efforts, Schultz says will pay off in the long run, as he expects China to soon become the largest market for the global coffee chain outside of the United States. From a professional viewpoint also these measures will help companies to retain and hire top talent in China. "High rents and labor costs have raised the bar for competition in the Chinese retail sector," he said.
The Seattle-based company has already provided 725,000 training hours for 14,000 employees in China and moved more than 110 young employees back to their hometown to become managers in new stores.