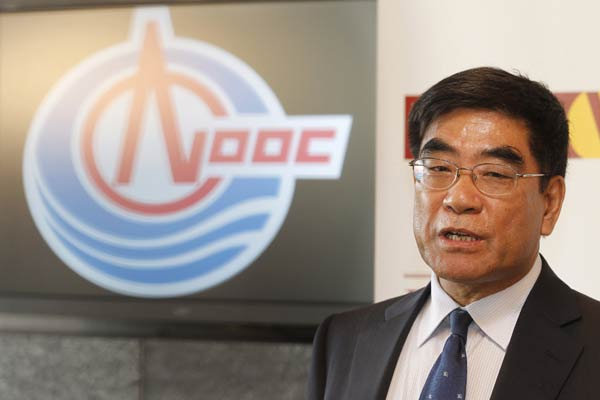 Fu Chengyu, chairman of Asia's largest petroleum refiner China Petroleum and Chemical Corp or Sinopec Group. China Daily
Strategic thinking, clear vision give Fu Chengyu an edge over peers
At first glance, Fu Chengyu hardly looks like the top executive of a multi-billion dollar Chinese energy giant that is making a name for itself with its global deals. With his thick eyebrows, dark skin and old-fashioned jacket, the 63-year-old Fu hardly looks like the top executive of the 605 billion yuan ($97 billion) China Petroleum and Chemical Corp or Sinopec Group.
But appearances can often be deceptive, something that I realized after dozens of interactions with him at various forums. The genial and affable Fu has insights and vision on what the energy industry needs to do for achieving sustainable growth in China.
My closest interaction with Fu was in March 2013 when I attended the annual "two sessions", an event where
top executives
are not allowed to bring assistants or secretaries. Fu was the host of the economic group discussion on that particular day and I secretly passed a note to him, requesting some time for an interview. I saw more than 10 similar notes asking for interview opportunities in his hands.
Fu, however, obliged and spoke to me briefly in a corner by the staircase after the group discussions. What I remember most from that interaction was the polite, logical and focused replies to the questions posed to him.
Unlike many of his peers in State-owned companies, Fu has always believed in being more open and direct.
Qu Jian, an independent energy analyst, said Fu can be very talkative, especially on topics that are close to his heart, such as outbound acquisitions. "I still remember that nine years ago, Fu talked about CNOOC-Unocal acquisition with the Chinese media for over seven hours, a feat among business leaders," said Qu, adding that he was part of that interaction and could feel Fu's passion for taking that deal forward.
Before Fu was appointed chairman of Sinopec in 2011, he was the head of China's largest offshore oil and gas producer China National Offshore Oil Corp or CNOOC. In 2005, he spearheaded an $18.5 billion acquisition of US-based Unocal Corp, which was one of the country's earliest bids in the oil industry.
Although the deal was not completed due to various reasons, including strong opposition from the US government, Fu, along with CNOOC, managed to catch the eyes of the global oil industry.