Another graduation season has come round again and it is reported that there will be 7.27 million college graduates this year, 280,000 more than in 2013. What has been increasing in recent years is not just the number of graduates, but also their expenses in celebrating their university life that will be over so shortly.
In order to mark a perfect ending to their university life, graduates ungrudgingly spend a lot of money on their graduation. Expenditures like renting houses after leaving school, attending farewell parties and travelling with friends or loved ones are all necessary.
According to a Shanghai Evening Post report in 2012, the expenses during the graduation season can reach 5000 yuan ($800), almost twenty times more than 20 years ago. So, where does the money go to and how on earth do graduates allocate their expenditure?
Although it is not a final list, here we have classified some of the necessary expenditures for college graduates.
Renting houses
Without the preferential charges of university dormitories, few graduates can afford to buy houses after graduation. Rent takes up a large proportion in graduates' total expenditure. In order to attract more tenants, some real estate agencies even offer a no-deposit renting policy to them. According to the China Market Research Reports, Beijing's average monthly rental for a one-bedroom apartment was 2,704 yuan in April.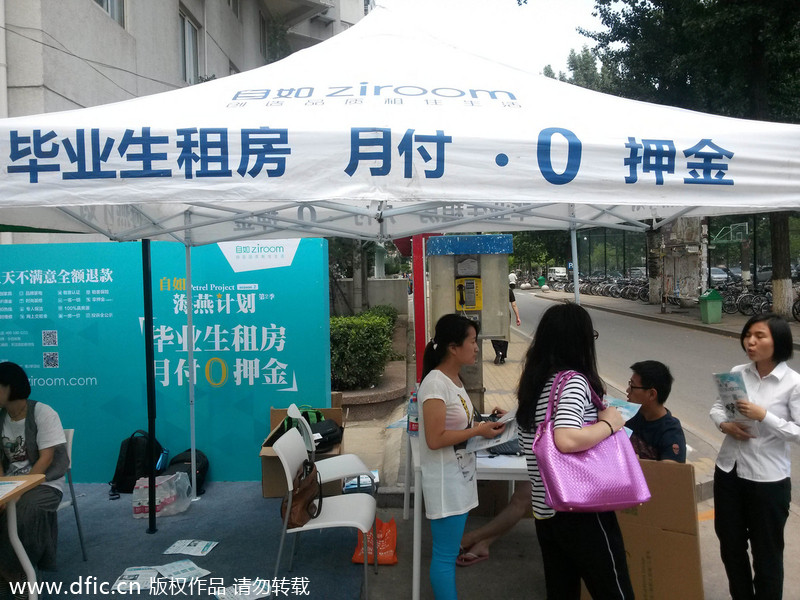 A real estate agency advertises on the campus of Renmin University of China, June 8, 2014. [Photo /IC]