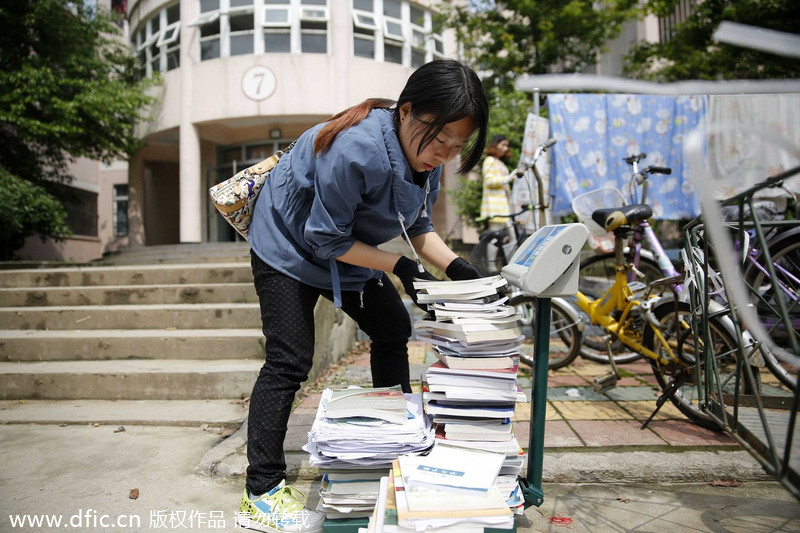 Xing Xue weighs the used books in Anhui province on April 27, 2014. [Photo/IC]
For the junior year student Xing Xue and her friends in Anqing Normal University, a house located at the east gate of their university is not just an old warehouse, but a place where their business, Yuanbao, began.
As the headquarters of their business, the warehouse is less than 10 square meters wide. In that small place used books, discarded boxes, empty bottles and other recycled materials are piled up. It is the first waste recycling station started by university students.
The idea to start a recycling business was driven by the weekly cleaning of their dormitory, which is located near the warehouse.
"When we carry out house cleaning on weekends, I always find lots of empty bottles and used paper boxes piling up in the dorm hallway. It is really a waste to leave them outside, so I came up the idea to recycle them into treasures," said Xing Xue, the founder of the business.Yuanbao, incidentally, means 'to turn waste into treasure'.
Her main role is to collect the discarded items while her colleagues categorize the stock. They pick out useful books, such as those on learning English, on university exams and other related courses, for the flea market and sell the rest on a tricycle.
As far as future plans are concerned, Xing Xue said it all depends, but her short-term goal is to pass the College English Test-6. The recycling business, even if not a success in the end, will be a good learning experience, she added.