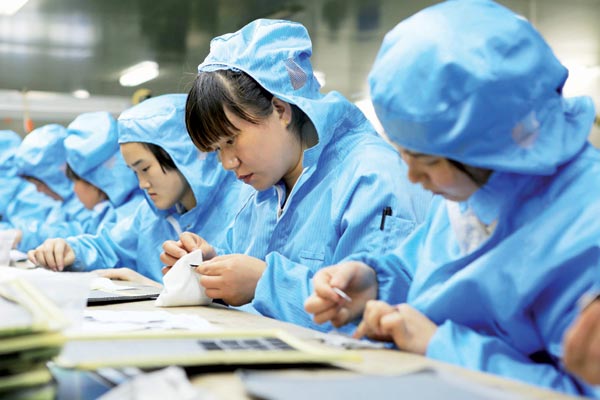 Employees at a laptop workshop in Chongqing. About one in four laptop computers in the world are now made in the Chinese city. [Photo/China Daily]
Chongqing plans to be global hub for portable computing products
After Hewlett-Packard was born in a one-car garage in Palo Alto, California, it took 75 years for it to grow into the global computer behemoth it is today. And since HP set up shop in Chongqing, it has taken the city in Southwest China only a few years to become a global giant in making laptop computers.
In fact, about one in four laptop computers in the world is now made in Chongqing, 55 million of them in 2013. That was 29.5 percent more than in the previous year, and in the first quarter of last year, 12.43 million laptops were exported from the city, 32.3 percent more than in the previous year.
The impressive numbers do not stop there. Apart from HP, four other big global information technology companies have set up factories in Chongqing: Acer Inc, Asus, Toshiba Corp and Sony Corp; six big PC makers, including Foxconn Technology Group, Inventec Corp and Wistron Corp, have operations in the city, having followed in the footsteps of the big five; and also present are 800 companies that sell components to original design manufacturers locally and other technology products, including printers and displays.
Chongqing's laptop industry had revenue of 157 billion yuan ($26 billion) in 2013, 38 percent more than the year before, according to Chongqing's Municipal Commission of Economy and Information Technology.
Putting all that in context, the PC industry accounted for 10 percent of the city's industrial output in 2013; five years earlier the figure was zero.
That is all the more remarkable considering Chongqing's history as a traditional industrial manufacturing city. Chongqing was the capital of the Republic of China during the War of Resistance Against Japanese Aggression (1937-45), and arms manufacturing was an important industry there. It was heavily bombed, and the city became widely known to Chinese as the city of heroes. The city's heavy industry, including mechanics and traditional manufacturing, was founded largely on the city's arms industry. Motor vehicle and motorcycle industries continue to contribute heavily to the city's GDP, and the city is the country's leading motorcycle manufacturer.