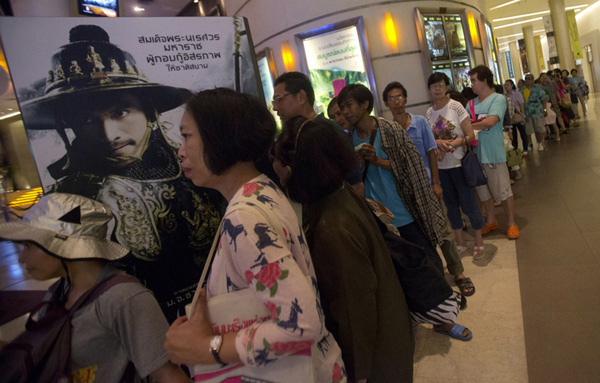 People line up for free tickets for the film "The Legend of King Naresuan 5" at a shopping mall during an event as part of the military junta's goal to "return happiness to Thai people" in Bangkok, June 15, 2014. The military Junta allows free tickets for the film "The Legend of King Naresuan 5" in nationwide cinemas. [Photo/IC]
BANGKOK - Thousands of Thais thronged cinemas on Sunday to grab free tickets to an epic film featuring a mediaeval king, given away by military authorities keen to kindle patriotic feeling after seizing power to end months of unrest.
The army has been urging Thais to bridge differences after it staged a coup on May 22 to halt recurring violent protests by rival political camps, at odds for a decade. At least 28 people were killed and hundreds injured in the latest round of tumult since November.
Hundreds have been detained since the putsch, most close to ousted Prime Minister Yingluck Shinawatra, pitted against protesters allied with the Bangkok establishment. Attempts to stage protests against the coup have been snuffed out.
The army's campaign to "return Thailand to happiness" has included free concerts and an order to broadcasting authorities to show all World Cup soccer games on free-to-air channels.
About 40 Bangkok cinemas offered a free morning showing of "The Legend of King Naresuan Part V" and movie-goers jammed a plush city-centre shopping mall - about five times more than the 500 seats available.
Army officers, caught off guard, scurried off to find crowd control barriers. "No one gets tickets until you form an orderly queue," one officer, standing on a table, shouted through a loudhailer.
Organisers relented and disappointed patrons, many with small children, were offered cheap tickets at a later screening.
Junta leader General Prayuth Chan-ocha has urged Thais to seek common ground and for schools to instil patriotic feeling.
The film depicts King Naresuan the Great, ruler of Siam, as Thailand was formerly known, and his drive to end the domination of invaders from neighbouring Burma during his rule from 1590 to 1605.