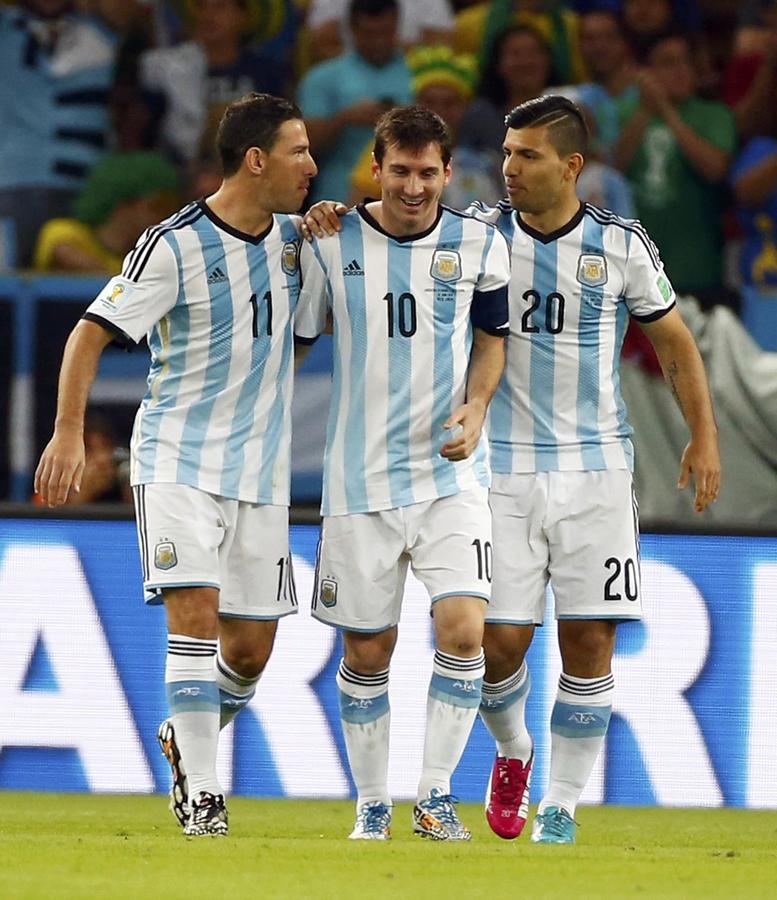 (L-R) Argentina's Maxi Rodriguez, Lionel Messi and Sergio Aguero celebrate after Bosnia's Sead Kolasinac (unseen) scores an own goal during their 2014 World Cup Group F soccer match at the Maracana stadium in Rio de Janeiro, June 15, 2014. [Photo/Agencies]
RIO DE JANEIRO -
Lionel Messi
scored a stunning second-half goal to push Argentina to a 2-1 victory over World Cup debutant Bosnia at the Maracana stadium on Sunday in the Group F opener for both teams.
Messi lifted Argentina in the 65th minute, moving in from the right and striking a low left-footed shot off the inside of the post behind Bosnian keeper Asmir Begovic. It was just the second World Cup goal for Messi, adding to one he scored eight years ago in Germany.
Vedad Ibisevic scored a close-in goal in the 85th to give Bosnia hope.
Bosnia got the worst possible start to its first World Cup when Sead Kolasinovic scored an own goal after just three minutes.
Messi sent a free kick from the left flank into the penalty area that Marcos Rojo barely touched before the ball bounced off Kolasinovic's foot into Bosnia's goal.
Bosnia bounced back after the early setback, making Argentina's lead look shaky.
Izet Hajrovic slipped through Argentina's five-man defense in the 13th but couldn't beat goalkeeper Sergio Romero. Five minutes before the break, Senad Lulic tested Romero's reflexes with a well-timed header on a corner kick five.
Meanwhile, Argentina struggled to find ways to create danger as Bosnia gave Messi no space to work his magic.
Coach Alejandro Sabella put in striker Gonzalo Higuain at halftime allowing Messi to take a step back. That shift proved crucial, getting the Barcelona star more involved in the action.
After a string of dangerous runs, Messi combined with Higuain, pulled left along the penalty area, scored with a precision strike off the post. Messi leaped over defender Ermin Bicakic without losing speed and balance before he took the shot.
Second-half substitute Ibisevic put some nerve back in the match when he picked up a pass from Senad Lulic and slotted the ball between Romero's legs.

Highlights of Group F opener between Argentina and Bosnia

Messi: First goal since 2006 Germany World Cup

Seven years and 364 days! The Argentina captain Lionel Messi, already 27, scored in trademark style in the 65th minute on Sunday night, completing a quick 1-2 connection Gonzalo Higuain and running through defenders before striking a brilliant left-footed shot off the post.

The goal, only the second for Messi in World Cup, set off wild celebrations among the throngs of Argentine fans that had turned the famed Maracana stadium into a sea of blue and white. It also energized an unimpressive Argentina team that was ahead at that point only because of an early own goal by Bosnia.

Bosnia-Herzegovina: World Cup debut

Bosnia-Herzegovina made its World Cup debut against a two-time world champion led by one of the greatest players in the game at the Maracana stadium.

"The very fact that we are here for the first time, that we play a great team, that we are playing against the best player in the world ... that's motivation enough," Bosnia coach Safet Susic said Saturday.

The match comes nearly 20 years after Bosnia played its first match as an independent nation in 1995, at the end of a civil war that followed the violent breakup of Yugoslavia.

Maracana stadium

 

The match was the first World Cup game at the Maracana since Brazil lost to Uruguay in the last round of the 1950 tournament, which remains a deep wound in Brazilian football history.

 

Fatest own goal


An early own goal, made at 2:08 by Bosnia defender Sead Kolasinac, gifted Argentina a 1-0 lead, and became the fastest own goal in World Cup history, beating Paraguay's Carlos Gamarra (2:46) in 2006.

Argentina fans


What was covered in Brazil yellow and green for the FanFest at Copacabana on Thursday was plastered in sky blue and white on a sunny afternoon, the greatest soccer celebration in the nation's post-1986 history.

Brazil cops

A police officer can be seen on a video firing what appeared to be a live pistol round at anti-World Cup protesters Sunday near Rio de Janeiro's Maracana soccer stadium.