GUIYANG - Five people were killed and 35 others injured in a fire that broke out in a bus on Thursday afternoon in Guiyang City of southwest China's Guizhou Province, local authorities said.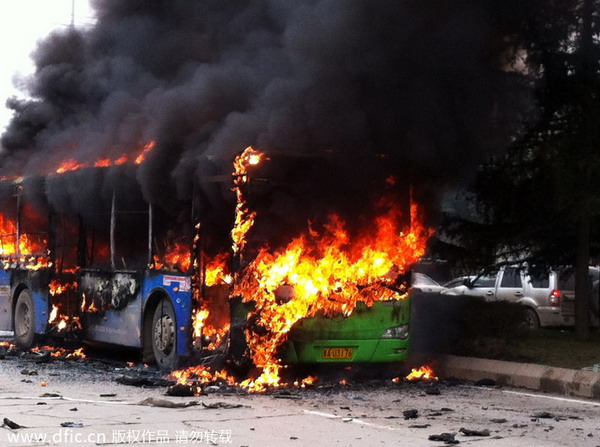 A bus burns in front of a primary school in Guiyang, capital of Southwest China's Guizhou province, at around 12:37 pm, Feb 27. At least five people were killed in the incident, according to firefighters. The cause of the fire is being investigated [icpress.cn]
The provincial publicity department confirmed with Xinhua that the number of injured had risen to 35, three more than previously reported.
The injured have been rushed to four separate local hospitals.
Here is a video capturing the fire scene.
Out of the 35, 10 have been sent to the Guiyang Jinyang Hospital (GJH), where they are all in stable conditions, according to a Xinhua reporter on the spot.
In a ward of GJH, the reporter observed nurses carefully wrapping gauze on Yang Li and her sister Yang Kai, while the two moaned in pain. They suffered minor burns on their hands, faces and ears in the accident.
Some family members have already arrived at the GJH, according to a doctor with the hospital.
The fire broke out at around 1 p.m. when Bus 237 was passing by a primary school in the northern part of Guiyang, the provincial capital.
A witness told a Xinhua reporter at the scene that one passenger escaped from the bus as it was burning.
Pictures posted on China's Twitter-like service Sina Weibo showed the bus was engulfed in flames with thick black smoke surging toward the sky, and firemen later used hoses to douse the burning vehicle.
Other witnesses said at least 50 passengers were on board.
Locals said Bus 237, which runs between downtown and the new city, was always crowded.
"I could not get on the bus at an earlier station because it was overcrowded," a netizen with the screen name "Huhu" posted in an online forum.
Police have cordoned off the site and the cause of the fire is under investigation.
The city's publicity department said on January 14, 2013 that all 1,850 buses had started using liquefied natural gas instead of gasoline for green purposes.