You see them everywhere in Asia.
They push street carts selling food and drinks, sell newspapers and water on busy intersections, and collect garbage for recycling while breathing in thick black smoke from the exhausts of trucks, buses and cars.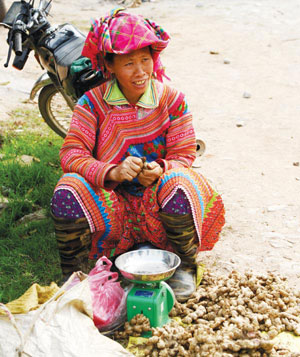 A Hmong tribal woman sells vegetables in northern Vietnam. Such workers are part of Asia's informal economy and suffer from a lack of job security. [Photo/AFP]
In the countryside they tend to small plots, growing just enough food to survive.
Despite Asia's massive economic gains over the last 30 years, very little of this new wealth has managed to trickle down to the grassroots, or what economists call the "informal economy".
The millions who work in the informal economy are not covered by formal employment agreements, which are so common in developed economies.
The International Labour Organization estimates the informal economy accounts for 60 percent of Asia's workforce.
The real challenge facing governments in emerging Asia is how to improve and protect those in the informal sector who have no protection from the non-payment of wages, and who can be retrenched at any time without notice or compensation.
They work in dangerous, low-skilled jobs with poor occupational health and safety conditions. None of them are protected by social security nets.
On the other hand, the formal sector - areas such as manufacturing, financial services and technology - is suffering from a growing skills shortage.
Asia reaped huge economic benefits when manufacturing migrated from many developed countries. Low-end manufacturing has even been migrating from China.