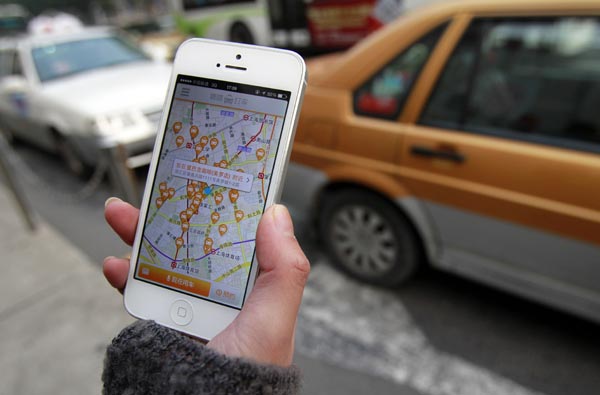 A customer checks his smartphone app that eases finding a taxi. Ding Ding / China Daily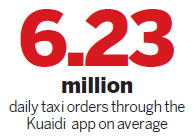 Thirty-one-year old Beijing office clerk Liang Ping is having an especially busy June. She is required to cook every single day this month for her husband.
It has nothing to do with male chauvinism, but instead the payment of a lost bet. He predicted that the government would interfere sooner or later when taxi-calling apps got popular, especially after promotional efforts by apps operators earlier this year.
Liang is now honing her culinary skills because her husband was right.
She is a fan of apps like Didi and Kuaidi, which gave subsidies up to 15 yuan ($2.4) to both taxi drivers and passengers for a trip.
With a tap on her cell phone, Liang could easily find a taxi driver to take her to work at less cost than normal fares while her husband, who had no taxi-hailing apps on his mobile phone, was often refused by taxi drivers eager to pick up customers like Liang.
But the visible hand of regulators came out on May 26 when the Ministry of Transport issued a notice to solicit public opinion on regulating taxi-hailing tools.
Operators Didi and Kuaidi, the two most popular apps, now wait to see what is cooking for them. One of the articles in the ministry's notice calls for taxi-calling apps to share information.
It would be a heavy blow, said industry insiders, who explain it would mean efforts by the two companies and their combined subsidies of more than 2 billion yuan to woo users in the past two years would probably have been in vain.
Both apps launched in late 2012. Didi had attracted 100 million users nationwide by late March while Kuaidi, according to its website, is generating a combined average of 6.23 million orders every day in more than 200 cities from Beijing to Lhasa.
For Internet-based companies, information accumulated in daily operations is one of the most important assets that give a competitive edge, He Xia, a senior engineer at the Ministry of Industry and Information Technology, said in an interview with Guangming Daily.