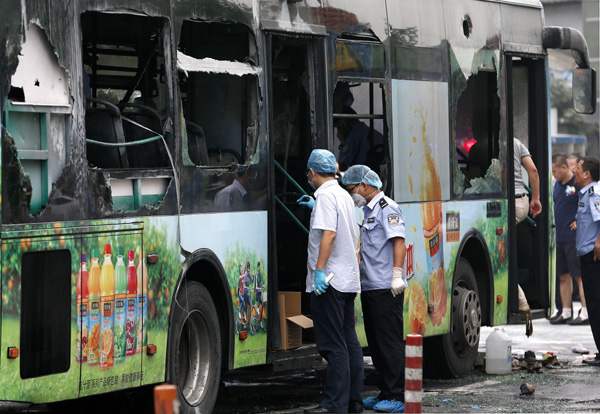 Local police inspect the wreckage of a bus that burst into flames in downtown Hangzhou, the provincial capital of Zhejiang province. The fire injured 32 people on Saturday, leaving 24 in serious condition. Photo by Lin Yunlong / For China Daily More photos
A bus in the downtown area of Hangzhou, Zhejiang province, caught fire at 5 pm on Saturday, injuring 32 people, including 24 critically.
An initial investigation showed that the fire was not caused by the 12-meter, diesel-fueled bus itself, as the fire did not come from its engine or electrical circuits.
It is suspected that someone set the bus on fire, according to Hangzhou Public Transport Group. Local police are investigating
The bus, carrying more than 80 people, was passing through the city's famous West Lake scenic area when the fire suddenly broke out.
Zhang Guihua, 58, was standing beside the bus when smoke began escaping from the back.
"It was passing a crossing when the smoke came out. Then I saw fire. Drivers of cars passing by and nearby shop owners used fire extinguishers to put out the fire, while some young men used locks, chairs and whatever they had in hand to break the bus windows," she said.
Zhang said that it took more than 20 minutes to put out the fire, and she saw many passengers jumping out of the bus with their clothes aflame.
"They were screaming and shouting. The scene was horrible," she said.
Wang Lei was on board when the bus caught fire. He was standing near the front door but was not injured by the fire.
"The bus was very crowded and I heard someone quarrelling at the back. Then suddenly some people shouted that there was fire. The driver stopped the bus and opened the front door, so we rushed out," he said.
Wang said the fire started at the back door of the bus.
The bus line is one of Hangzhou's most important tourism lines and also the most crowded one. It links the city's train station with many West Lake scenic spots. The line carries an average of 20,000 passengers every day, according to the public transport group.
yanyiqi@chinadaily.com.cn