On a summer night in 1958, Tang Chi-yan, 16, was among those who fled from Guangdong for neighboring Hong Kong where he hoped to start a new life suffering no hunger or poverty.
Deng Xiaoping realized the solution to escape lay not in tightening border security but in improving the economy of Guangdong, a forerunner of China's reform and opening-up.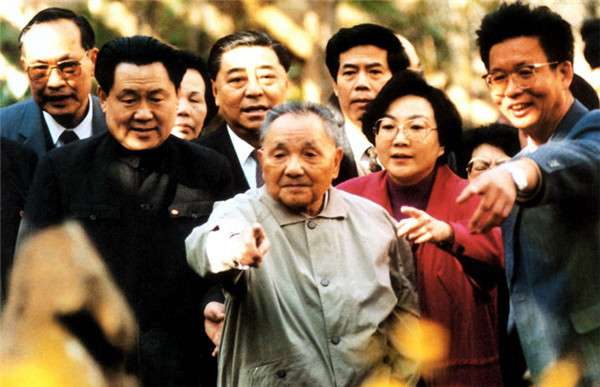 Deng Xiaoping visits a botanical garden during a visit to Shenzhen in 1992. 

It was a summer night in 1958 when 16-year-old Tang Chi-yan ran away from home with another man from the same village. They were bound for Hong Kong where they hoped to begin a new life.
Crossing the border on Ng Tung Shan mountain, linking Shenzhen in Guangdong province with Hong Kong, was one of the toughest things they'd ever done. But it was Tang's only hope. His father belonged to the hated "landlord class", so Tang, having completed middle school, was banned from further education.
There was no way back. Anyone renouncing the socialist motherland and seeking shelter in the capitalist colony was considered a "traitor" by the government. Failure meant imprisonment or death - being caught by the border police, falling off a cliff coming over the mountains.
Tang did not realize he was a pioneer among what was to become a large group of escapees.
Between the 1950s and 1980s, forced by hunger and poverty, about a million people risked life and limb to make their way into Hong Kong from the mainland. Many were swallowed up by the sea; some were shot dead by mainland border police; others were just too weak to make it to safety.
The situation was reported to Deng Xiaoping during a visit to Guangdong in 1977. He realized the solution lay not in tightening border security but in improving Guangdong's economy and people's standard of living.
Encouraged by the open-minded leader, the Guangdong provincial government set up an export processing zone in Bao'an county to where materials could be imported, items manufactured and then exported without tariff or other restrictions.
Deng supported the experiment and, when talking to Guangdong leaders, he said: "(the Party) has no money so we will give you a policy that allows you to charge ahead and cut through your own difficult road".
The export processing zone became the Shenzhen Special Economic Zone in 1980. The once poor, backward village had turned into a front runner in China's reform and opening-up.
Today, with the rapid development of the local economy, escaping to Hong Kong has become a distant memory. Shenzhen is now welcoming increasing numbers of Hong Kong residents to settle and explore more opportunities in the city.