It took Shangha-born Zhao Mouhua 5 years to attain a passport that would allow her to go to the US to marry her boyfriend.

Zhao could have waited much longer if Deng Xiaoping hadn't helped her.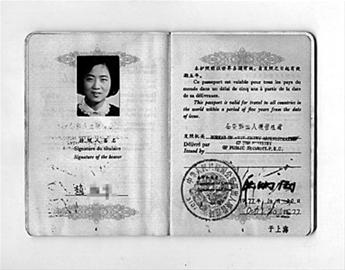 The passport approved by Deng Xiaoping. 
Today, going abroad for business, travel, study or even marrying a foreigner are common and easy for Chinese citizens. But it may be hard to imagine that, three decades ago, applying for a passport might demand years of effort, sometimes even the approval of the country's top leader.
This was exactly what Shanghai-born Zhao Mouhua (an alias), who is now 69 years old, went through.
In 1972, Zhao got to know Shen Mouhong (an alias) when Shen was visiting Shanghai with his mother. Shen was a Chinese American. The two soon fell in love.
Two years later, Zhao planed to go to the US to marry her boyfriend, neither of them knowing that it would take years to finally walk down the aisle.
Before the reform and opening-up, it was difficult to go abroad due to political reasons. Passport applications usually took about three months on average. Only five passports were issued in Shanghai in 1968.
The couple waited for 10 months, only to find Zhao's application was denied for her allegedly "complex family and social relations".
After that, Shen repeatedly wrote to Shanghai local government. His requests were refused again and again until 1977, when the desperate Shen wrote a letter to Deng Xiaoping.
To his surprise, Deng immediately approved their marriage and asked relevant government departments to help the couple. The long, five-year wait for true love to take its course finally came to an end..
One year later, during the Third Plenary Session of the 11th CPC Central Committee, Deng Xiaoping put forward the historic reform and opening-up policy. China finally opened its door to the outside world.
Major progress has been registered in China's reform and opening-up after Deng's talks during his tour in southern China in 1992. In 2013, about 98 million outbound trips were made by residents from Chinese mainland.