The days of fighting over the TV remote may soon be over.
Voice Control, a device that Chinese engineers helped developed, is leading a new trend in smart TV technology by replacing the ubiquitous remote gadget.
The latest voice input system allows users to speak instead of press TV commands. Its wide range of applications in the booming Chinese entertainment market includes helping call friends on social networking platforms and posting micro blogs via the smart TV set.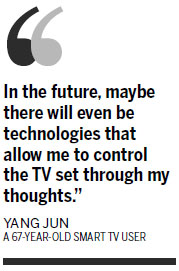 Voice Control is being touted as useful for children, the elderly and people with physical disabilities who need help using the TV set, "which is more easily achievable via smartphones and smart TV over the Internet", Liu Qingfeng, chairman of iFlytech Co Ltd, an information technology company, said at the third over-the-top TV industry forum in the Tianjin Binhai New Area.
"Voice Control technology is an important invention following touch-screen technology for the human-computer interaction system," Liu said.
"We have collected large volumes of voice data in the local language, including the Cantonese and Sichuan dialects," he said.
"This is based on the extensive application of the Internet and makes life much more convenient for us," said 67-year-old smart TV user Yang Jun.
"In the future, maybe there will even be technologies that allow me to control the TV set through my thoughts."
Yang's wish may not be too far away. Developers at Tianjin's Nankai University are working on using brain signals to operate car functions like opening and closing doors as well as adjusting the rearview mirror.
In a car equipped with positioning and computer processing systems and an electronic control unit, a special hood with 14 sensors captures brain signals and converts them into specific actions.
Contact the writer at baowanxian@chinadaily.com.cn