Two senior officials in Shanxi province are being investigated for suspected grave violations of discipline and the law - a euphemism for corruption - the country's top anti-graft organization said on Thursday.
Both Ling Zhengce, vice-chairman of the Shanxi provincial political advisory body, and Du Shanxue, a vice-governor, are provincial-level officials.
The Communist Party of China Central Commission for Discipline Inspection released the news on its website, but stopped short of giving more details about the investigation.
It is rare for the commission to announce an investigation of two senior officials from the same province at the same time.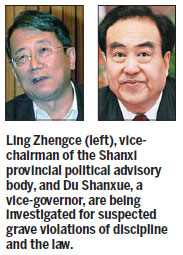 Career details released by the government show that Ling and Du are Shanxi natives who have held important posts in the province.
Ling, 62, headed the Shanxi provincial reform and development commission from 2004 to 2008 before taking his current post. The commission is in charge of approving large projects that have investment from the provincial government.
Du, 58, had been in charge of work related to reform and development, transportation, infrastructure, environmental protection and investment.
The investigation follows the recent fall of two senior officials in Shanxi.
In April, Shen Weichen, Party secretary and executive vice-president of the China Association for Science and Technology, was investigated for suspected serious violation of discipline and laws. He worked in Shanxi for 41 years.
On February 27, Jin Dao-ming, vice-chairman of Shanxi Provincial People's Congress Standing Committee, was investigated on graft allegations.
Apart from provincial leaders, at least 20 prefecture-level officials in Shanxi have been investigated this year.
In December, the central commission sent an inspection team to Shanxi, but it remains unclear whether the fall of the senior officials is directly related to this.
At least 13 provincial-level officials have been investigated on corruption allegations this year. Last year, 17 provincial-level officials were investigated, about three times the number for the previous five years.
anbaijie@chinadaily.com.cn
(China Daily 06/20/2014 page1)