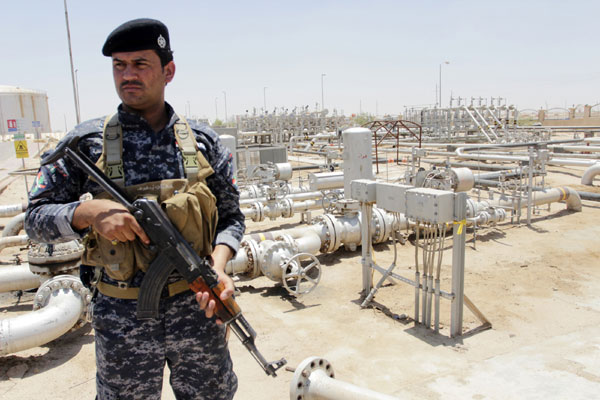 A member of the oil police force stands guard at Zubair oilfield in Basra, southeast of Baghdad, on Wednesday. Essam Al-Sudani / Reuters
The central government and Chinese companies operating in Iraq have prepared evacuation plans for workers from China if the situation in the strife-torn Middle Eastern nation continues to worsen.
At least 15 Chinese companies are operating in Iraq, most of them in the energy, construction and telecommunications sectors, employing more than 10,000 Chinese workers, government figures show.
Most of the workers are in safe areas of the country. But Foreign Ministry spokeswoman Hua Chunying said at a daily briefing on Thursday, "We will assist the small number in unsafe parts to be evacuated to safe places as soon as possible."
She said the Chinese embassy in Iraq and those in neighboring countries are requesting help on entry and exit formalities.
PetroChina, the single biggest investor in Iraq's oil sector, is pulling some of its workers out of the country, but production remains unaffected even though militants have captured large parts of northern Iraq, a Reuters report said. PetroChina declined to confirm this.
Sun Jianli, media officer at Power Construction Corp of China, or Sinohydro, said the company has worked out emergency plans to evacuate its workers once the government makes the decision.
Sinohydro has four projects involving 409 Chinese workers in Iraq.
Sun said a project that Sinohydro has just won in Iraq has been suspended because of the insurgency, but most projects have been unaffected, as they are mainly in southern and western areas, away from the troubled north.
Cao Lijun, an Iraq project manager for Shanghai Electric Power Generation Engineering Co, also said the company has drawn up detailed evacuation plans.
It runs a power station in Iraq's Wasit province with 2,200 Chinese employees. The station supplies electricity for Baghdad.
"As of today, all our power facilities are working at full capacity," said Cao, who returned from Iraq two weeks ago and will fly back on Saturday. Flights between China and Baghdad haven't been affected by the unrest.
Cao said power supplies in Baghdad will be greatly affected if the workers are evacuated.
The first phase of the $2.1 billion project is fully operational and the second phase is still under construction and scheduled to be put into use at the end of the year.
"Evacuation will bring huge losses for our company," Cao said.
Fatih Birol, chief economist at the International Energy Agency, said China has extensive cooperation in the oil sector with Iraq and he hopes this will not be affected by the insurgency.
Contact the writers at lanlan@chinadaily.com.cn and dujuan@chinadaily.com.cn.