Report: Public expenses drop amid frugality drive, but problems remain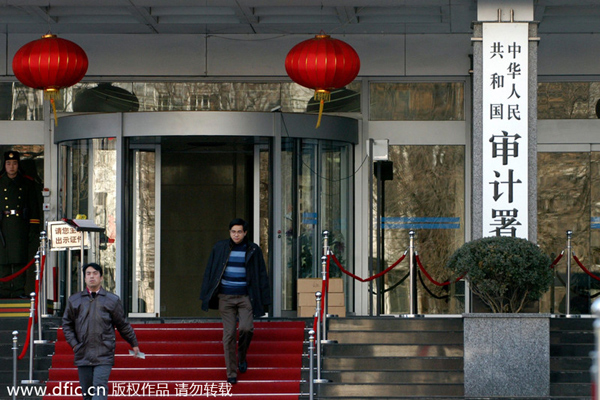 Two men walk out of the head office of National Audit Office of the Peoples Republic of China in Beijing in this undated file photo. [Photo/IC]

The central government's expenses on vehicles, receptions, overseas trips and conferences dropped by 22.93 percent in 2013, the result of an aggressive frugality campaign, an audit report released on Tuesday said.
The National Audit Office reviewed the expenses of 38 central government departments and 389 affiliated agencies last year. It found that 154.238 billion yuan ($24.76 billion) was spent on vehicles, receptions and overseas trips - also known as the "three expenses" - as well as on conferences.
The latest audit report on the implementation of last year's central budget has been submitted to the Standing Committee of the National People's Congress, China's top legislature. Lawmakers are scheduled to discuss the report during a bimonthly session through Friday this week.
About 14 percent of the audited central authorities have not implemented their budgets, and some of them have violated the frugality regulations, the report said.
Auditors found that 149 traveling delegations from seven central departments and nine affiliated agencies violated the rules by changing their routes and overstays during overseas business trips.
For example, a delegation of the China Geological Survey visited Las Vegas, Nevada, in the US and stayed in the gambling city for three days during a business trip in January last year.
The delegation was supposed to visit the US and Canada to study technology related to shale gas extraction.
After returning to China, members of the delegation tried to hide the fact that they had visited Las Vegas, saying that they were staying in Canada at the time, according to the audit report.
Fourteen central departments and 54 affiliated agencies were found to have overspent by 32.3 million yuan on overseas business trips.
The auditors also found that 14 central departments and 13 affiliated agencies purchased 289 excessive vehicles, and that 123 government vehicles were in violation of government standards.
Six central departments and 63 affiliated agencies have not implemented their budgets on the purchase and use of vehicles, with a total of 10.94 million yuan involved.
Over-expenditures on government vehicles, overseas trips and receptions have violated the "eight-point" frugality rules, the report said.
In December 2012, the Communist Party of China Central Committee put forward the frugality guidelines, which require government officials to get closer to the people by cleaning up undesirable work styles, including extravagance and hedonism.
The auditors found 314 suspected serious cases of corruption, and more than 1,100 officials have been probed on graft allegations.
Liu Jiayi, auditor general of the national office, said a trend has been identified in which officials in different posts collaborate with each other in corrupt dealings.
About 35.7 percent of the corruption cases were jointly committed by collaborating officials, and 31 cases involved officials' family members, Liu told lawmakers on Tuesday.
Some corrupt officials make illegal gains through a third party - generally NGOs or companies - which makes supervision difficult, he said.