Editor's Note: Whampoa, China's first modern military academy, founded 90 years ago, was a beacon of liberation and the training ground of many of China's best-known revolutionaries during the following three decades. World War I, in which 140,000 Chinese served on the European Western Front, ended 100 years ago, and next year will be the 70th anniversary of the end of World War II, the most devastating global conflict in history, marked by the Holocaust and prefigured in China by the start of the War of Resistance against Japanese Aggression in 1937 and the Nanjing Massacre that followed. In this series, China Daily honors those whose sacrifices in the wars of the last century helped to ensure the peace and prosperity enjoyed by the vast majority of humankind today.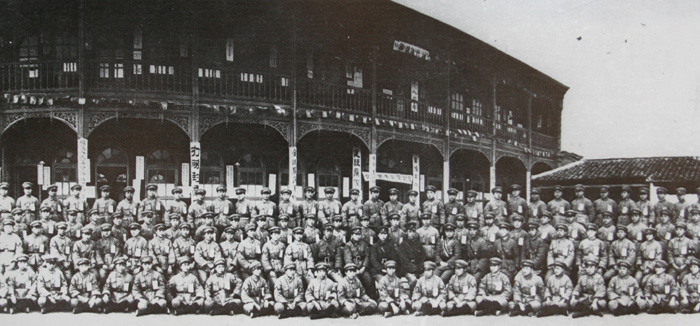 A group photograph of all female students at the Whampoa Military Academy in Wuhan, Hubei province, in 1927. Provided to China Daily
The first generation of female students to enroll at China's first and best-known military academy not only struck a blow for women's rights, but also played a major role in defeating the Japanese during World War II, as Zhao Xu reports.
Huang Jingwen lay on a hospital bed desperately clinging to life. At 108 years old, there's very little about Huang to remind people that she once fought for the freedom of her country and herself, but that's what she did for more than two decades.
FACT BOX
May 1, 1924
The Whampoa Military Academy is founded in Guangzhou, Guangdong province, by Sun Yat-sen.
February 1927
One hundred and eighty three female students are enrolled by the academy's branch in Wuhan, Hubei province.
Sept 18, 1931
Japan invades China.
July 7, 1937
China's War of Resistance against Japanese Aggression officially begins. In the following years, the military academy is forced to move many times, including Chengdu, Sichuan province, and Wuhan. It opens more than 20 branches in unoccupied areas. Between 1937 and 1945, a further 600 female students enter Whampoa, all of whom fight the invaders under the united front established by the Communists and Nationalists.
1946-1949
The civil war is fought between the Communists and the Nationalists.
Oct 1, 1949
The People's Republic of China is founded and the academy relocates to Taiwan, where it remains today.
"My mother entered Whampoa in 1927 as one of its earliest female students," said Luo Xiaoqing, Huang's daughter, referring to the military academy founded in Guangzhou in 1924 by the renowned revolutionary Sun Yat-sen. "As the country's first modern military school, Whampoa quickly became a source of hope for a strong and unified China, and an emblem for those women who saw their own struggle for independence as an essential part of the country's transformation from a feudal empire to a democratic republic," Luo said.
Given that women had been oppressed for centuries in China, being able to sit in the Whampoa classrooms sometimes meant petitioning the school authorities - one young woman wrote a letter in her own blood - and breaking with their families. "Unsurprisingly, the school's decision to recruit females students at its branch in Wuhan in early 1927 provoked a huge outcry from the more conventional sections of society. But that was nothing compared with the pressure felt by those young women from both inside and out," said Chen Yu, an expert who has written several books about the academy. "Many of them were abashed at the prospect of regular physical checkups, and the photos they sent home after having their hair cut to suit a military life, totally enraged - and, some may say, scandalized - their families."
"Without being fully aware of it, they had put themselves at the forefront of a revolutionary storm that was about to sweep across China," he said. "Collectively, they became a potent symbol of change, inviting a mystique that has occasionally rendered their unique personalities a blur, along with their individual triumphs and sufferings."
According to Chen, 183 women were accepted by the academy in 1927. Several more groups were to follow during China's war with fascist Japan between 1937 and 1945, bringing the total to around 800. Passionate and idealistic, they resolutely asserted their place in a man's world, sometimes against their own femininity.
"The training routines at Whampoa were grueling, to say the least. The students were ordered to walk under the scorching sun for very long distances with heavy weights tied to their lower legs. A few of them had undergone foot-binding, a rather cruel process to which young Chinese girls had been subjected for centuries, giving them a pair of 'dainty' feet at the cost of broken bones. For them, the drill was doubly painful and stressful," said Chen. "But they all persisted. And although sick leave was granted, some insisted on continuing to train even during menstruation."