Major Chinese clubs are helping to reverse a decline in domestic soccer by backing local academies, as Qiu Quanlin reports from Guangzhou.
When Evergrande Soccer School in Qingyuan, Guangdong province, was launched in 2012, Executive President Liu Jiangnan found himself at odds with Xu Jiayin, the chairman of the main investor, the real estate giant Evergrande Group.
The two men disagreed about the amount of time students should devote to academic work and to soccer training. "Xu wanted the students to spend more time training, and not to have winter and summer vacations so there would be even more time for training. But I disagreed with him," Liu said.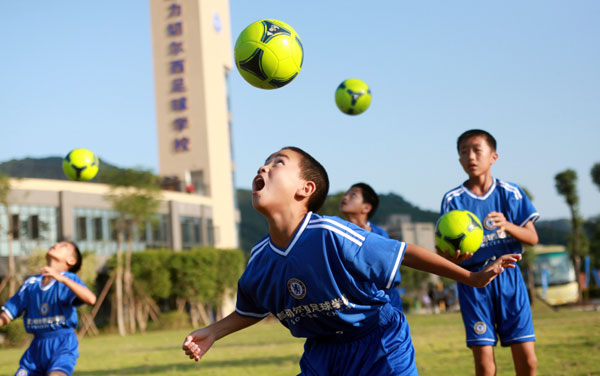 Students undertake routine training at a soccer school in Meizhou, Guangdong province. The school was jointly established by Guangzhou R&F and the English Premier League giant Chelsea in 2013. Photos by Qiu Quanlin / China Daily
In the opinion of Liu, a former head of the Guangzhou sports authority, children should develop a deeper understanding of the role of soccer by giving priority to academic studies.
"I finally persuaded Xu, so he agreed to the training and academic schedules, which enable students to spend 80 percent of their time studying," said Liu.
Students now train for 90 minutes, four days a week after classes. "The schedule accords well with our strategy, which is to develop soccer stars with strong academic backgrounds - that will be an efficient way of boosting Chinese soccer talent over the long term," he said.
Schools such as Evergrande and a number of rival establishments are attempting to reverse what seemed to be a terminal decline in the popularity of the domestic game brought about by a series of match fixing and gambling scandals that focused on officials, referees and players in the Chinese leagues. The scandals not only left fans disenchanted, but resulted in Chinese parents, who are desperate to see their offspring perform well academically, unwilling to allow their children to take up the game. It hasn't helped that China has failed to qualify for the World Cup tournament since 2002, meaning that few Chinese players have made an impact on the world stage.
Integration
So, in an attempt to halt the years of stagnation, a number of domestic league clubs, including the Chinese Super League giants Guangzhou Evergrande, plus Guangzhou R&F and Shandong Luneng, have established bases to plan the development of soccer in China.
These bases - what Liu called "a new type of soccer school" - feature a strong integration of academic studies and training. The organizers also hope to persuade parents to adopt a more realistic attitude about their children's futures. .
"Chinese parents have long held the wrong view about the development of soccer. They want their children to become soccer stars the minute they leave school, but actually, only a small number of children will go on to play professionally," he said.
Like children at regular primary and middle schools, the students at Evergrande study a wide range of academic topics. "The students train after they have finished their academic day, a method commonly used in European countries in terms of youth training," Liu said, adding that although there were about 4,000 traditional soccer schools in China during the 1990s, most were forced to close as a result of the domestic game's poor image.
"In the developed countries, children have to receive an education before they play soccer. We are making the same effort by introducing top teachers and professional coaches at the school. Everything is aimed at boosting Chinese soccer in the long term," he said.
Now, Guangzhou R&F, which employs Sven-Goran Eriksson, a Swede who managed the England soccer team for several years, is making similar efforts to boost youth training.
In cooperation with the English Premier League giant Chelsea, the club has launched a soccer school in Meizhou, in eastern Guangdong.