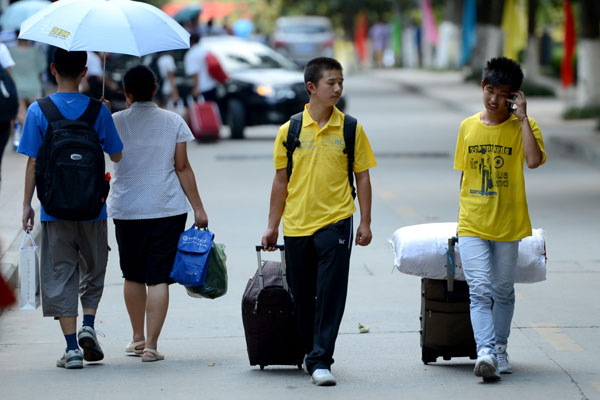 Freshmen arriving at the University of Science and Technology of China in Hefei, Anhui province, in 2013. Zhang Rui / Xinhua
In an attempt to promote equality in education, China's leading universities are reaching out to students from disadvantaged rural backgrounds, as Luo Wangshu, Su Zhou and Cao Yin report.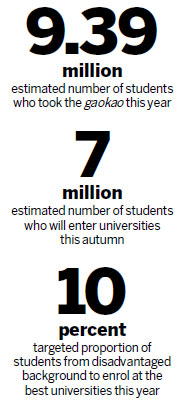 Su Lingwen had no choice but to drop out of high school after just one year. The 17-year-old was expected to get into a key university, but he found it almost impossible to keep pace with his peers from the cities. Su was raised in Sankeshu, a poor township in Suqian city, Jiangsu province, and went to primary school and middle school there.
After graduating from middle school, he transferred to a key high school in Taizhou, a prefecture-level city in the center of the province, which his parents believed would provide him with a better education.
Although he ranked in the top 20 percent in his middle school, Su quickly found himself at the bottom of his new class, scoring just 37 out of a possible 150 points in his first math exam at the school.
"My classmates' English vocabulary was way beyond my level," he said. "Compared with them, I had so much to make up, but I didn't even know where to start."
The family's income comes from his father's small motorcycle repair shop. His parents are not well-educated and have no special plan for their son's schooling. They can offer no guidance.
To overcome disadvantages and boost equality in education, top government leaders are encouraging key universities to pay special attention to students from low-income rural families.
Preferential policies
Just as the United States higher education system began offering preferential policies for African and Hispanic applicants some decades ago, the Chinese education system has also started a mild form of positive discrimination in favor of students from rural areas.
As soon as China's university college entrance exam, the gaokao, ended on June 8, universities began releasing their recruitment plans. This year, many are looking to recruit more students from low-income families and the rural areas.
Tsinghua University in Beijing, one of China's most-prestigious schools, plans to recruit 3,372 students, the same as in 2013, but the number of undergraduates from rural backgrounds will rise to 240 from 60. Another well-respected school, Fudan University in Shanghai, has launched a plan to recruit more than 300 students from rural areas, accounting for about 10 percent of this year's total intake.
Meanwhile, Renmin University of China has started a program called Fulfill Your Dream, which will offer places to 80 students from rural areas, a rise of 50 percent from last year, and Chongqing University will set aside 80 places for students from underdeveloped inland regions in an attempt to boost social mobility.
The preferential policies are in line with Premier Li Keqiang's 2014 Government Report, released in March, which noted that the number of students from poor rural areas enrolled in key colleges and universities rose by 8.5 percent in 2013. It also set a target for this year, which states that the number of disadvantaged students enrolled at the best schools should rise by more than 10 percent.
The Ministry of Education quickly implemented the report's recommendations, and ordered universities to observe quotas whereby no less than 2 percent of students must be recruited from remote, rural areas because although university entry is much easier to achieve than before, it still appears to be harder for students from rural areas to gain admission to the best establishments.
Official figures show that 9.39 million students took the gaokao this year, an increase of 270,000, or 3 percent, from 2013, and nearly 7 million new students will enter higher education when the new semester begins in September. In 1998, the figure was 1.08 million, but after recruitment was widened in 1999, the number has soared.
Town versus country
Zhou Xuhong, president of Chongqing University, said the policy will help the disadvantaged, and that his own college has made great efforts to recruit them, partly by expanding student numbers from the rural areas.
"The municipality has many poor counties and townships, and we have had discussions with the Chongqing Education Commission about ways of giving more opportunities to students from poor families," Zhou said.
About 25 percent of those studying at Chongqing University - which has more than 50,000 students, nearly 20,000 of whom are studying for master's degrees or doctorates - are natives of the municipality, and more than 30 percent of them are from financially disadvantaged families in the outlying areas.

Related stories:

Making the most of every opportunity

Taking the plunge in a new world