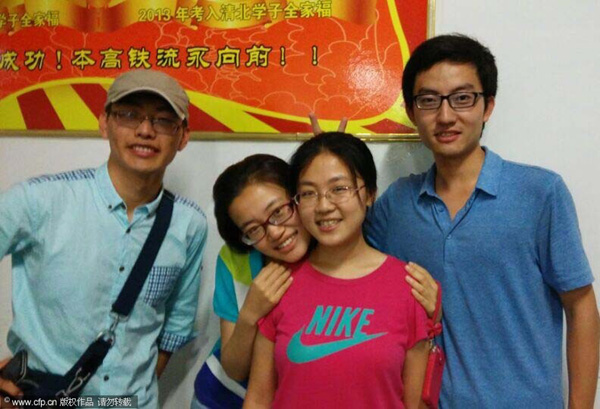 Liu Dingning, second right, is seen with classmates last year. [Photo/CFP]
A Liaoning girl who came under the spotlight in October for quitting Hong Kong University and returning to a high school classroom has caused a stir again. She retained her position as the province's best performer in this year's national college admission exam and is expected to enroll at her dream school, Shenyang-based news network News.syd.com.cn reported on Tuesday.
By Tuesday afternoon 306,162 posts and comments had been generated on Sina Weibo, a Chinese social networking site, about her switching school and achieving remarkable results in the annual gaokao exam earlier this month. It is the second hottest topic on the platform, behind the death of a panda given as a gift from Beijing to Macao.
ShejiZhangxiansen commented "If we omit some elements in the story - top performer, competitive exam - this story is just about a girl trying to get into a university and a major she likes. It's just her choice, and we need to respect that."
A user dubbed Fufu said: "For those who said she is stupid in giving up Hong Kong University, which ranked higher than Peking University in many reputable rankings, I should say, she definitely knows about the rankings, but knows the importance of giving up sought-after things she doesn't want.
A Weibo user dubbed Makebutudeqingtian commented: "The girl was following her heart, using her own efforts and sweat to get what she wants. Her dream and persistence deserve respect."
Weibo user Vaillance said: "Hong Kong University has a more open academic atmosphere and can provide more international communication opportunities. It's just the girl's inability to adjust. She will figure out which school is better herself years later."
Liu Dingning, 19, from Benxi city of Liaoning province, achieved 668 points, involving 10 awarded points, in last year's national college admission exam, becoming the best performer among liberal art students in Liaoning province.
She was admitted by the Faculty of Arts of Hong Kong University and offered a 720,000 yuan ($117,648) scholarship in July, but quit about 40 days after starting and returned to Benxi High School in October to prepare for this year's national college entrance exam, with the aim of "more pure Chinese study" at the Chinese department of the renowned Peking University in Beijing, a Chengdu Business Daily report on Oct 15 said.
Liu once again gained the highest score among liberal art students in Liaoning province with 666 points, far outnumbering Peking University's average benchmark for Liaoning's liberal art students. Liu passed the exam independently held by Peking University which allows her to be admitted even if her result is 30 points less than the entry score. Application and admission process for Chinese universities have yet to start.
Liu Bing, the girl's father, said his daughter has been longing to attend Peking University for about five years, and she had carried post cards featuring Peking University scenes in her schoolbag during her last high school year in 2012-2013. She had followed her parents' advice to go to Hong Kong University as a way to show filial piety.
In a letter to Liu Liduo, who was studying in the Chinese department of Peking University, on July 19, 2013, the girl said she regretted choosing Hong Kong University, and was still longing to attend the Chinese department of Peking University, which she believed was a pure place to undertake classic Chinese literature studies.
Liu's friends at Hong Kong University said the girl was very upset about being unable to follow Cantonese, an official language in Hong Kong and widely used in courses. Her friends also said she was disappointed at the classical Chinese literature courses the Faculty of Arts offered, and her eyesight couldn't adjust to working on screen as most course, homework and exams were conducted online.