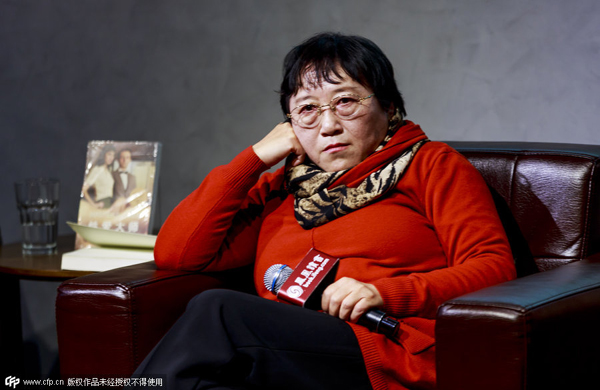 Li Yinhe attends a seminar in Beijing about American TV series Masters of Sex, Dec 7, 2014.[Photo/CFP]
The number of supportive online messages posted after a celebrity sexologist's admission that she has a transsexual life partner shows positive changes in China's attitude to lesbian, gay, bisexual, and transgender groups.
China's best-known sexologist and sociologist, Li Yinhe, for the first time on Thursday revealed her female-to-male transsexual partner of 17 years in her blog, refuting tabloid newspapers which have said she is leading an "abnormal" life being a "lesbian".
The audacious academic, who has made many controversial comments on a series of sex-related issues, again hit the headlines.
"My partner is physically a woman, but psychologically, a man. His appearance and thoughts are like every genuine man. In this sense, I'm not gay, but still heterosexual. But by claiming it, I do not position myself morally superior than the gay. I'm just stating a fact, " Li wrote on her Sina blog, which has 363,254 followers, and was later shared with another one million on Sina Weibo, one of China's most popular social networking platforms.
She also revealed the couple had adopted an abandoned, mentally retarded boy from a child welfare center, as her partner wanted to be a parent. The 14-year-old is now in the fifth grade and "a beautiful and kind kid", she said.
As of 2:50pm on Friday, the blog got more than 27,000 likes, 136,000 page views and 18,565 comments. The topic has become the hottest issue on Sina Weibo with 379,000 page views.
The vast majority of comments support, understand or at least respect her choice.
"I thought all these years after her husband died, Li has been alone. Happy to know she has another lasting love," Sina Weibo user Kitty_Fanqie commented attracting 4,435 likes.
"I'm not a supporter of 'loyal' women who remain single years after their husbands die. It's nice to see someone enjoy love and caring rather than someone lonely and lifeless." Baomao 99 commented, attracting 3,512 likes.
Yan Feng, a Chinese language and literature professor at Fudan University, said on Sina Weibo: "I respect Li for her sincerity and courage. She is making a contribution for a more diversified culture in China". The comment got 1,826 likes.
"Being straight or gay, it doesn't make one more noble or humble. Just be candid to yourself and don't ever let down 'love'," commented Sina Weibo user Yuan Zhe, attracting 891 likes.
Roma Jiari, a Sina Weibo user, said: "Her deceased husband, if he could know, will definitely get her back." It gained 79 likes.
"I read through the comments and got the feeling that Chinese people's state of mind had progressed for a century". This Sina Weibo comment got 152 likes.
The 62-year-old academic first came into the public spotlight as the wife of an outspoken, rebellious Chinese novelist and essayist, Wang Xiaobo, who died from a heart attack on April 11, 1997 in Beijing.
His masterpieces include the Trilogy of Ages, namely Golden Age, Silver Age and Bronze Age.
Li's views supporting the legalization of same-sex marriage, defending wife-swapping and urging the scrapping of "group licentiousness" in Chinese law have rocked public life in China over the past decade.