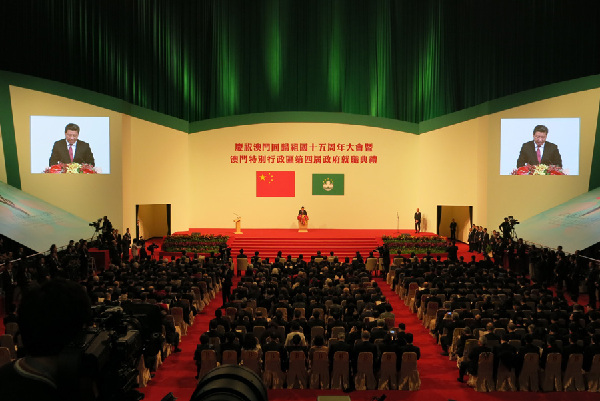 Chinese president Xi Jinping speaks at a gathering marking the 15th anniversary of Macao's return to China, Dec 20, 2014, in Macao. [Photo: CRIENGLISH.com]
MACAO - Chinese President Xi Jinping said here Saturday morning that Macao's return to the motherland was an event of great historic significance in the development of the Chinese nation and marked a new chapter in Macao's development.
"We are glad to see that the principles of 'one country, two systems', 'Macao people administering Macao', and a high degree of autonomy as well the Basic Law of the Macao SAR have won massive support from the people in Macao and have been implemented in real earnest," Xi said at a celebration gathering marking the 15th anniversary of Macao's return.

President Xi said that Macao has enjoyed orderly progress in democracy, fast economic growth, rising living standards, and social harmony and stability since its return to the motherland 15 years ago.
Xi added that the close national bond of "blood being thicker than water" is becoming ever stronger.
"Love for the motherland and love for Macao has become a prevalent value in Macao society," he said.
In the meantime, he said, Macao, as a historical city where Chinese and Western cultures meet, displays a unique charm that belongs to a culture typical of Southern China, yet with a distinctive European touch.
"Here, communities from various ethnic backgrounds live in harmony and help and learn from each other," said Xi.
"Together, they present to the world a dynamic Macao beaming with vitality."

Noting rapid economic and social progress, Xi said, "Certain deep-seated problems formed over the years have surfaced, and development risks have built up to some extent."
"It is important for Macao to adopt a global, nationwide, future-oriented and long-term perspective, formulate appropriate plans and blueprints for its development and promote sound economic and social development," he said in a speech delivered at the Macao East Asian Games Dome.
The president stressed the necessity to make long-term planing, seize the opportunity of the national efforts to comprehensively deepen reform, and promote appropriately diversified and sustainable economic development in Macao based on its positioning as a global tourism and leisure hub and a service platform for economic and trade cooperation between China and Portuguese-speaking countries.

Xi also urged continued efforts to enhance social harmony and stability in the Macao Special Administrative Region (SAR).
"Both the SAR government and people from all walks of life in Macao must doubly cherish and do everything they can to safeguard harmony and stability in Macao," Xi said at a celebration gathering marking the 15th anniversary of Macao's return to China.
The president also urged the SAR government to "put people first," properly respond to diverse demands in the society, balance the interests of various sides and foster a more equitable and just social environment.
The SAR government needs to make sure that the Macao people have better access to the fruits of development, improve their quality of life and increase their happiness index, he said.
Meanwhile, the president called on the Macao people to continue to love Macao and the motherland, support the work of the chief executive and the SAR government in governing Macao in accordance with law, strengthen social cohesion and positive energy, and work jointly for long-term prosperity and stability of Macao.
Xi emphasized the need to guard against external infiltration and interference, so as to maintain the sound atmosphere of stability and unity in Macao.