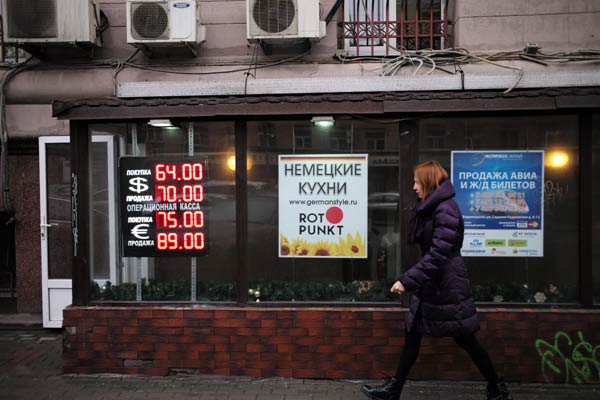 A woman walks past boards showing currency exchange rates in Moscow, Dec 16, 2014.[Photo/Xinhua]
Chinese travelers have been flocking to Russia in recent days to cash in on the weak rouble.
Bitter weather means that winter is usually the offseason for Russian tourism, and some Chinese travel agencies even stop selling tours to the country from October to June.
But this winter, the ailing rouble has stoked Chinese traveler's enthusiasm for heading north.
Online travel agency Tongcheng Network Technology Share Co, in Suzhou, Jiangsu province, recently launched winter tour services to Russia for the first time. The agency said it has received 113 percent more bookings in December than in November.
"The number of bookings and inquiries increased sharply as the rouble depreciated significantly," said Liu Qing, chief executive officer of Tongcheng's Outbound Tourism Department.
Ctrip.com International, the largest online travel agency in China, said inquiries about Russian tours rose by 100 percent month-on-month in December.
Dai Yu, marketing director of Ctrip's Tourism Department, said winter tours to Russia are about 60 percent cheaper than summer ones and the cost has fallen further due to the weak rouble.
Group tours to Russia usually last for six to eight days, with recent prices quoted at between 5,000 and 8,000 yuan ($815 to $1,300), much lower than tours to Western Europe.
Zhang Jing, 32, from Beijing, said she plans to book a low-priced tour to Russia for her parents. "It is a good deal to go now," Zhang said, adding that her parents will choose between leaving at New Year's or Spring Festival in February.
Travel industry insiders said Russia will be a popular choice for Chinese visitors during the seven-day Spring Festival holiday.
Some agencies have already sold Spring Festival tours, although most travelers will only make their plans in the next month.
Liu said, "We can't estimate how many travelers will book tours for Spring Festival, but we have already seen a dramatic rise in bookings."
China is the main source of tourists to Russia, with their numbers increasing by 10 percent year-on-year in the first nine months of 2014, according to the Russian tourism authority. The number of tourists from Russia, the third-largest source of inbound tourists to China, continues to fall and will worsen due to the weakening rouble.
According to the National Tourism Administration, 1.79 million Russian residents visited China in the first 10 months of this year, a 3 percent year-on-year fall.
In the first 11 months of this year, 89,224 Russians visited Hainan province, a fall of 21.1 percent compared with the same period in 2013, according to the local tourism authority.
Russia is the largest overseas source of tourists to Sanya in Hainan, but the city's tourism market has been affected by the falling rouble.
Zhang Jie, general manager at the Nanwan Monkey Island scenic area in the province, said, "The number of Russian travelers will continue to drop, in line with the weaker rouble."
Only a daily average of 50 Russian tourists visited the island last month, compared with about 100 during the same period last year.
Zhang added that the weaker rouble will continue to drive them away.
Contact the writer at wangwen@chinadaily.com.cn