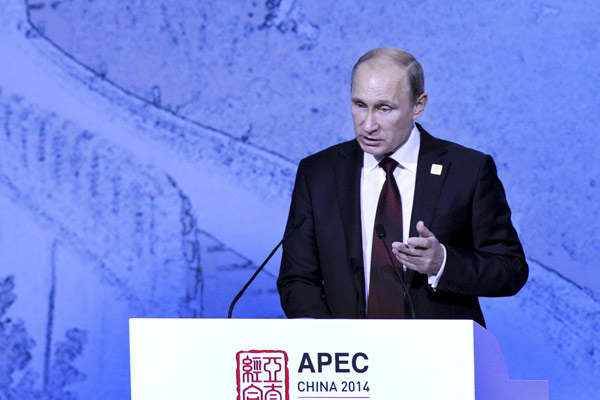 Russian President Vladimir Putin gives a keynote address at the APEC CEO Summit 2014 on Monday. [Zou Hong / China Daily]
Russia and China intend to use their national currencies to settle more energy deals to guard against instability in a world energy market dominated by the US dollar, Russian President Vladimir Putin said on Monday.
"Direct settlement between the rouble and the yuan is very promising in the long run," Putin said in a speech at the Asia-Pacific Economic Cooperation CEO Summit. "If we can settle large deals in this way, it will mean the influence of the dollar in global markets will decrease."
Putin said China is a "priority partner" of Moscow, and the two countries are studying the possibilities of increasing the use of the Russian and Chinese currencies in bilateral trade and investment, in particular the energy sector.
Diversification in trade settlement will create greater stability in the world's financial and energy markets, Putin added.
His remarks were seen by analysts as a signal that the yuan is making sound progress toward becoming an established international currency as Beijing actively promotes its global profile.
Last month, China and Russia agreed on a currency swap worth 150 billion yuan ($24.5 billion), a move widely viewed as an effort to reduce the dollar's influence in both bilateral and international trade.
Jing Ulrich, vice-chairman of Asia-Pacific at investment bank JP Morgan, said, "Putin's mention of direct trade settlement between the rouble and the yuan makes sense as the yuan's internationalization is making good progress in global markets, and the trend will continue."
But she said the dominance of the dollar as a global reserve currency will not disappear overnight, and China needs to make the yuan fully convertible for it to be more accepted internationally.
In his speech, Putin said Russia has made the Asia-Pacific region a priority in its trade and investment policies. Trade with APEC members currently accounts for 25 percent of Russia's total trade volume, and Moscow is willing to raise the portion to 40 percent.
Russia also expects to boost investment in the Asia-Pacific region, which reached $1 billion over the past year, he added.
On Sunday, Russia and China signed a $400 billion deal for the construction of a pipeline that will supply 30 billion cubic meters of natural gas a year to China.
The two countries have also agreed to the purchase by China National Petroleum Corp of a 10 percent share of Vankorneft, a subsidiary of Russian oil giant Rosneft and operator of the lucrative Vankor oilfield.