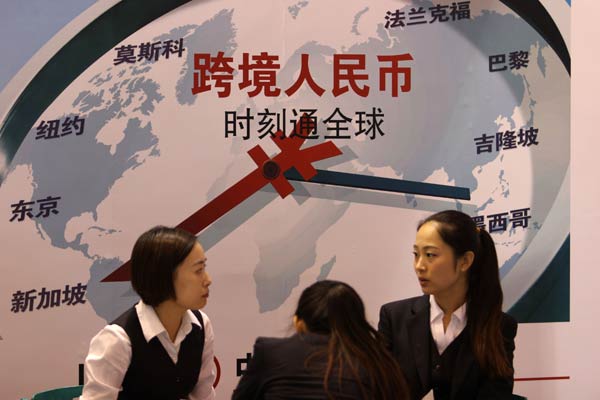 Benefits of transactions in yuan are publicized at an international financial exhibition in Wuhan, Hubei province. HSBC Holdings Plc estimates that about one-third of China's trade will be settled in yuan by 2015. Sun Xinming / For China Daily
Survey finds Chinese currency can be handy for cross-border transactions
Overseas companies are yet to realize the full benefits of using the renminbi as an invoice currency when doing business with China, said a new survey commissioned by global banking and financial services organization HSBC Holdings Plc.
The survey, released on Wednesday, shows that although 59 percent of the respondents plan to increase cross-border activities with the Chinese mainland over the next 12 months, only 22 percent currently settle transactions in yuan.
According to HSBC, the figures also highlight the huge growth potential for yuan - denominated trading activities with Chinese companies, as China overtook the United States to become the world's largest trading nation in 2013 with its trade in goods passing $4 trillion. HSBC estimates that about one-third of China's trade will be settled in yuan by 2015.
Mark Emmerson, head of global trade and receivables finance for HSBC in the United Kingdom, says there are many benefits to invoicing imports and exports in yuan for international businesses when trading with China.
Emmerson said most foreign companies move toward the yuan invoicing model at the request of their Chinese partners, who look favorably on overseas partners who use the yuan as it shows commitment and eliminates foreign exchange risks.
He said that most foreign companies use yuan to manage import and export, but some also do it for liquidity management reasons. For instance, foreign companies that export to China as well as manufacture in China would find it easier to receive yuan from Chinese customers and use this currency to manage their factories.
The survey questioned 1,304 international and Chinese companies that have cross-border trade activities. HSBC commissioned global market research firm Nielsen Holdings to conduct the survey. The field work for the survey was done between April 3 and May 7 this year.
According to the survey, two-thirds of the companies in the Chinese mainland and Hong Kong Special Administrative Region said foreign firms doing business with China gain both financial and relationship advantages while using the yuan, but awareness of these benefits varies widely in overseas markets.
Half of the respondents from Singapore, 44 percent from the US and 42 percent from the UK said they believe yuan usage brings financial benefits, but less than one third of their German and Canadian peers share the view.