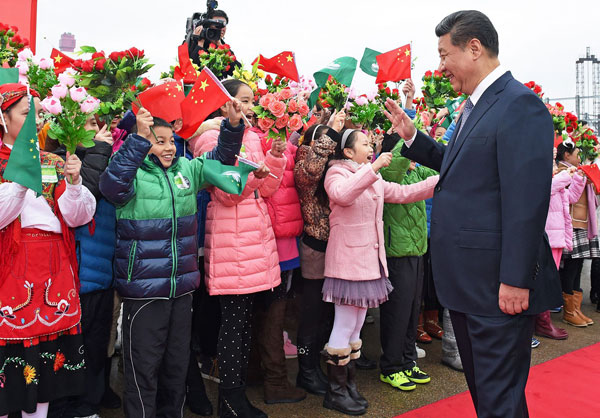 President Xi Jinping is welcomed by children on his arrival in Macao on Friday. He is visiting the city to mark the 15th anniversary of its handover to China. AGENCE FRANCEPRESSE
Special administrative region's maritime zones to be demarcated by central authorities
The central government has decided to demarcate the maritime zones of the Macao Special Administrative Region, President Xi Jinping said on Friday.
He made the announcement at a meeting with Macao Chief Executive Fernando Chui Sai-on.
An academic said the decision will give Macao more choices as it strives to diversify its over-reliance on gaming, with this year set to mark the first yearly decline in gaming revenue at the world's top gambling destination.
Xi arrived in Macao to celebrate the 15th anniversary of its return to China. He said the region has achieved "obvious" development in all aspects since 1999, thanks to implementation of the "one country, two systems" policy and the Basic Law.
"The situation is very good and is particularly beautiful in some areas. (But) some deep-seated problems need to be resolved to push forward Macao's development," he said.
Xi made the comments when he met representatives from all walks of life. He also said the central government has decided to present two giant pandas to Macao as gifts.
Davis Fong, an expert on commercial gaming at the University of Macao, said demarcation of territorial waters is "critical" for the city.
Without this, it is unable to develop water leisure activities, he said. "Cruise tours can set sail from Zhuhai to see Macao at night, but we can't do the same."
Macao may also link future water leisure activities with tourism to Zhuhai's offshore islands, he said.
Larry So, a professor at Macao Polytechnic Institute, told the Macao Daily Times, "Since we do not have the jurisdiction, sometimes it is difficult for Macao to handle issues relating to maritime affairs.
"For example, when a ship enters our waters and an accident occurs, Macao will obviously send help. But at the same time, Zhuhai would also send help, as it is Zhuhai's territory as well."
Over-reliance on gaming has posed challenges for Macao's future growth.
Chui said, "We will … pragmatically promote Macao to become a world tourism and leisure center and a service platform for commercial and trade cooperation between China and Portuguese-speaking countries."
The Chinese mainland and Macao signed a new trade liberalization deal on Thursday to provide easier conditions for Macao's service providers to set up businesses in neighboring Guangdong province.
Under the agreement, which will take effect on March 1, a "negative list" will be used for the first time.
This means that Macao companies in a service sector that is not on the list can invest in Guangdong without any restrictions or joint-venture requirements. The deal will remove all restrictions on 58 service sectors.
Leading junket operators have said they will develop other nongaming avenues to offer tourists more quality choices, after Macao's gaming contraction began in June.
New York-based credit rating agency Fitch Ratings anticipates a 4 percent drop in Macao's gaming revenue in 2015, driven by a fall in VIP business that accounts for two-thirds of the city's overall annual gambling revenue.
Hong Kong-listed casino stocks have plunged this year.
The share price of Sands China, owner of the Venetian Macao Resort Hotel, closed at HK$38.55 on Friday, slightly above Wednesday's HK$37.95 ($4.97), the lowest so far this year. It peaked at HK$66.25 on March 6.
After arriving at noon, Xi told reporters at the airport that Macao will progress steadily on the right track, guided by the "one country, two systems" policy and the Basic Law.
He also suggested furthering the notion of "Love the Nation and Love Macao" among local young people during events he attended on Friday.
Xi's remarks come shortly after police in Hong Kong cleared the final site of the "Occupy Central" protest.
Xi also met Hong Kong Chief Executive Leung Chun-ying on Friday and visited Macao families living in public housing.
He will officiate at the inauguration ceremony of the fourth-term government of Macao on Saturday.
Deng Yanzi in Hong Kong contributed to this story
Contact the writer at zhaoshengnan@chinadaily.com.cn