While quoting Mo Yan as saying that speeches are blown away by the wind, Diao Ying, in Stockholm, and Mei Jia, in Beijing, believe his Nobel Lecture will be remembered.
"Two hours ago, the wife of the general secretary of the Swedish Academy had a baby girl. It is the beginning of a beautiful story."
Neatly putting an emphasis on his storytelling craft is how writer Mo Yan prefaced his Nobel Lecture in Literature speech, "Storyteller", on Friday (Saturday, Beijing time) in Stockholm.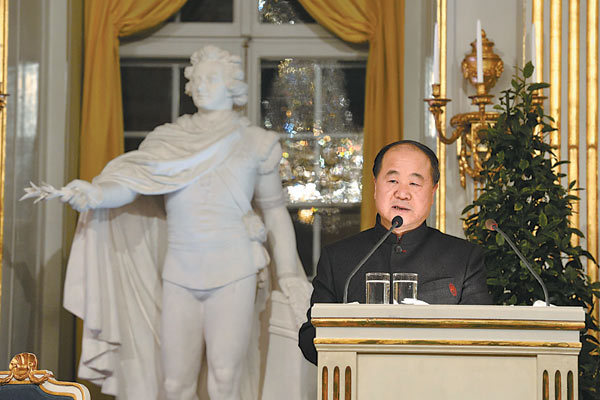 Mo Yan talks about his mother, hometown and controversy surrounding his selection as a Nobel winner on Friday. [Photo/Agencies]
For 40 minutes he talked about his mother's influence on him as a person and a writer, his literary inspirations, and how he dealt with the controversy that followed the announcement of his Nobel victory.
He told his audience that as a boy he told stories to cheer up his mother, and added that poverty and solitude fueled his imagination as a writer after he grew up.
Additionally, authors such as William Faulkner and Gabriel Garcia Marquez inspired him, he said, especially their bold, unrestrained spirits.
"A person should be humble in daily life, but follow one's instinct and take control when it comes to literary creation."
He said the soul of his work is the boy in Transparent Carrot who has an almost superhuman ability to bear suffering. He added that he also tried to make his hometown of Gaomi in Shandong province a microcosm of China and the world.
His greatest challenge, he said, was writing novels that deal with social realities.
"In writing about the darker aspects of society there is a danger that emotions and anger allow politics to suppress literature."
He said a novelist must take a humanistic stance as literature originates from events but transcends them.
He also mentioned the controversy surrounding his selection as Nobel winner, saying he was at the same time showered with bouquets and was a target for "stone throwers".
"At first I thought I was the target of the disputes, but over time I've come to realize that the real target was a person who had nothing to do with me."
Mo concluded by saying he was made to feel like an actor in a play with all the attention he was receiving, but he had decided that the best way to communicate his thoughts was to carry on writing.
"Speeches are carried off by the wind. But the written word can never be obliterated."
Mo Yan's speech explained both how he grew up as a writer and how he dealt with different opinions after he won the prize, commented Tomio Yoshida, a professor at Bukkyo University, who translated Mo's works into Japanese.
"The most important thing is that literature is about people. He talked about his childhood and his mother. I was very touched."
Yoshida said Mo's elevation was a symbolic event marking the Western world's recognition of Asia. "China is such a big country, but it had never won the Nobel Prize for literature," he said.
Goran Backstrand, a former Swedish diplomat who attended the lecture, said the speech was "very personal, very good".
"He gave reasons why an author can never be a political person," Backstrand said. "A writer makes us think deeper about the life we live and the society that we live in."
Mo's English-language translator Howard Goldblatt said the speech had diverse elements but was essentially a message from the heart.
"It was very personal in that it dealt with many of his novels in detail, and all his work as a reflection of his values and ideals, while touching briefly on the controversies surrounding his selection."
Xu Jinlong, a researcher at the Institute of Foreign Literature of Chinese Academy of Social Sciences, said that Mo - unlike previous Asian Nobel literature prize winners, Japan's Kenzaburo Oe (Xu is Oe's translator) and Yasunari Kawabata, who emphasized their debt to European literature - Mo concentrated on his hometown and what he knows best.
"The Nobel prize offers a sacred rostrum, where great writers show their best," Xu said. "Mo Yan described what shaped him, so he couldn't lose."
Contact the writer at diaoying@chinadaily.com.cn and meijia@chinadaily.com.cn.
Related stories:
Designer unveils Mo Yan's dressing code
Mo Yan gives Nobel Prize speech
'I will continue telling my stories': Mo Yan
Special coverage:
Nobel laureate in literature Mo Yan
Factbox on Mo Yan:
Nobel laureate in literature Mo Yan