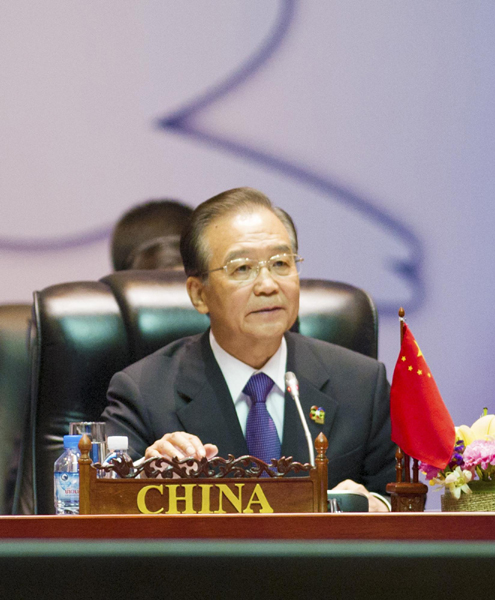 Chinese Premier Wen Jiabao delivers a speech during the first session of the 9th Asia-Europe Meeting (ASEM) Summit in the Lao capital of Vientiane, on Nov 5, 2012. [Photo/Xinhua]
VIENTIANE - Chinese Premier Wen Jiabao put forward a four-point proposal for promoting steady growth of the global economy in an address delivered at the ninth Asia-Europe Meeting (ASEM) Summit on Monday.
Over the past four years since the international financial crisis broke out, Asian and European countries have steadily improved their domestic economic policies and adopted focused measures to address their major challenges and problems, Wen said.
Meanwhile, they have also strengthened international dialogue and coordination on macroeconomic policies and deepened pragmatic cooperation in various fields to promote the revival of the world economy, the premier said.
"Being a responsible country, China has managed its own affairs well and restored its economy to stability and achieved a steady and fairly fast growth in the shortest time possible," Wen said.
"China is an important engine for world economic growth and has played a crucial role in driving global economic recovery."
"We not only have confidence in meeting the development targets set for this year, but also have confidence, conditions and abilities to achieve development of a better quality, at a higher level and in the longer run," Wen noted.
However, the global financial crisis is not yet over, and there are many uncertainties and downside risks for the world economy, Wen said.
In order to promote steady growth for the global economy, Wen suggested the following:
Firstly, free, open and fair international trade is an important driving force for world economic growth.
Secondly, to enhance macroeconomic policy coordination remains an important task.
In his third point, Wen emphasized innovations in science and technology as a fundamental way to get out of the crisis.
Fourthly, a sound global economic governance system is an institutional guarantee for world economic growth.
Noting that Asia-Europe cooperation has ever clearer objectives, an increasingly solid foundation and richer content, Wen said he is full of expectations and confidence in a new type of comprehensive partnership between Asia and Europe and that Asia-Europe cooperation holds promising prospects.
On the same day, Wen attended the opening ceremony of the summit and the enlargement ceremony of ASEM.
Founded in 1996, the ASEM is an intergovernmental dialogue forum between Asia and Europe, which aims to establish a new type comprehensive partnership between Asia and Europe through enhanced dialogue and cooperation.
The ninth summit, under the theme "Friends for Peace, Partners for Prosperity", also witnessed the accession of Bangladesh, Norway and Switzerland as new members of ASEM, bringing its total membership to 51.