Women who unknowingly married gay men are accusing an online website - meant to help people in their situation - of defrauding its members of 90,000 yuan ($14,000).
The case has been reported to the police, according to the Southern Metropolis Daily on Wednesday.
The website, Tongqijiayuan, which literally means homeland of gays' wives, was established in July 2011 by Yao Lifen, a woman in Shaanxi province who had divorced her gay husband.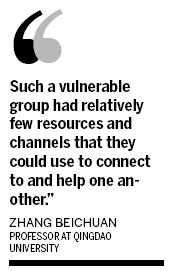 On June 12, a statement aimed at "disclosing fraud at the home of gay men's wives" was published on a blog and accused Yao and her new boyfriend, An Yao, of committing fraud.
It said that Yao and An charged wives who had asked to join their online chat group a roughly 1,000 yuan deposit each and charged every volunteer who wanted to joined the group for a 2,000 yuan deposit.
The statement also said the website would help wives ascertain their husband's sexual orientations and obtain divorces.
"They charged from 3,000 to 6,500 yuan for the service ... they charged tens of thousands of yuan at the most ... but the service didn't give you any practical help," the statement said. "They dragged their feet when wives asked them to return the money ... and threatened to expose these women as being the wives of gay men."
The statement also accused Yao and An of asking the website's registered users to give money to the website, which was struggling with financial difficulties but they never disclosed how they used the money they had collected.
People who wanted to join the online chat group were required to fill out a form, which was then used in a research project led by Zhang Beichuan, a professor at Qingdao University, also an expert on HIV/AIDS and advocating gay men's rights, the statement said.
The website was out of service on Wednesday.
Yao pledged to rectify the situation.
"Now I can only try my best to find out in private what the truth is and give you all an explanation as soon as possible," she said.
China Daily tried to talk to Yao but she did not answer phone calls. In a text message, she wrote that she was saddened that the media had conducted an expose of her work place and that the publicity had greatly affected her life and work.
Zhang Beichuan said the matter is very complicated and that he feels sorry for Yao.
"She's made a great effort to set up and maintain the website, which did help gay men's wives talk to one another, share information and obtain mental counseling services," Zhang said over the phone on Wednesday.
"And as far as I know, it was Yao herself who reported the case to the local police and who was merely being deceived by her boyfriend," Zhang said.
The website is reported to have about 3,800 registered members.
"The sheer number of members shows that such a vulnerable group had relatively few resources and channels that they could use to connect to and help one another," Zhang said.
In recent years, the government and public have paid much more attention to the gay population and provided more support to it. But little has been done for the wives of gay men, he said.
Among the gay population, "many say they are feeling pressured by the burgeoning advocacy that is taking place for the rights of gay men's wives," he said.
He estimated that 16 million women are married to gay men in the country.
"Amid the traditional family values that hold sway in China, about 90 percent of homosexual men choose to get married," he said.
Contact the writers at wangqingyun@chinadaily.com.cn and shanjuan@chinadaily.com.cn