Special guests hear youngsters loud and clear
By WU JIAO ( China Daily )
Updated: 2015-06-25 05:13:32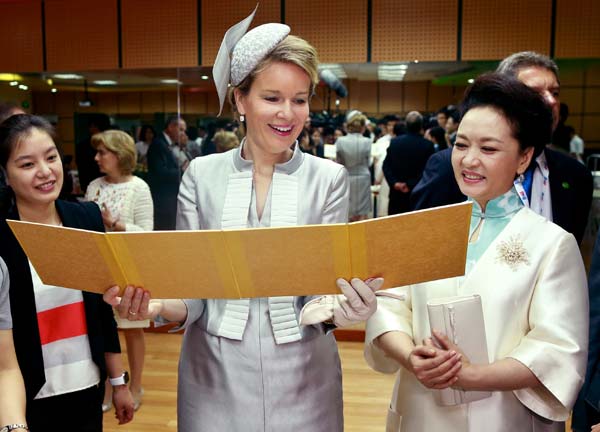 Belgium's Queen Mathilde and Chinese first lady Peng Liyuan read a cartoon drawn by students featuringThe Adventures of Tintin, a legendary comic series from Belgium, during a visit to a special school for deaf children in Beijing on Wednesday. [Photo by FENG YONGBIN / CHINA DAILY]
Queen Mathilde of Belgium, who was a speech therapist before she married, listened to and was entertained by children with hearing disorders in Beijing on Wednesday.
The youngsters' communication skills won a royal seal of approval as the queen, accompanied by first lady Peng Liyuan, visited the Beijing Experimental School for the Deaf.
The visit formed part of a packed schedule for the queen, who is visiting China with her husband, King Philippe.
A group of costumed kindergarten pupils, between ages 4 and 6, performed an animal-themed sports meeting in their classroom for the special visitors.
The children, who have been given voice training since they were 2, spoke clearly and performed the drama while imitating animal sounds.
Touched by their ability, the queen told Peng, "They speak so well." Peng told the children through sign language how much she loved them and cheered their artistic efforts.
The school in western Beijing is the largest of its kind in China and has more than 280 pupils between the ages of 3 and 18.
The children presented special gifts to the guests, including a painting, calligraphy, elaborate needlework and two clay pandas that they made in a pottery class.
The queen said, "We love pandas, and what is most important is that they are made by you here."
Eighth-grade pupil Liu Minghao presented the pandas to the queen, hoping that Hao Hao, one of two pandas loaned to Belgium by China last year, will soon give birth.
Li Na, a 17-year-old middle school student, presented a Chinese knot — a decorative, traditional form of handicraft featuring a butterfly — to the queen.
The queen told Peng she had been impressed by the professionalism at the school as well as China's efforts in helping such children.
She also asked about teaching methods and parental involvement in the school's success.
Later, the queen and Peng visited the PLA Academy of Arts, where Nobel literature laureate Mo Yan, a former academy student, introduced his books. The visitors also witnessed a dance and drama exhibition.
Peng is a former head of the academy, which has nurtured hundreds of artists.
wujiao@chinadaily.com.cn

We will not give up search, Li vows
International hunt for missing airliner continues after fruitless six-day search