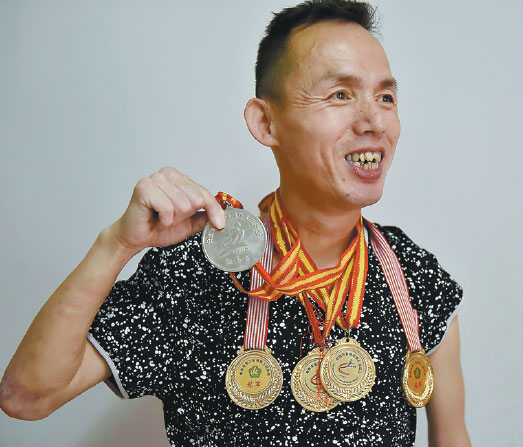 Liu Wenxue shows his five gold Paralympics medals at his home in Jieshou on May 23. Photos by Wang Dongjun / for China Daily
Man overcomes early losses, cerebral palsy to win prizes at essay writing, excel at races for disabled athletes
For the past 20 years, Liu Wenxue has kept up on reading, writing and sports, despite having cerebral palsy, a neurological disorder that has caused him suffering.
He became a gold medalist at the Paralympics, a sports contest for disabled athletes, and won many prizes for essay writing.
In 2006 and 2014, he netted four golds for medium-and long-distance running at the Paralympics in Fuyang, Anhui province, and won a gold in the Paralympics of Anhui province in 2010. He has received much praise for his perseverance as his brain condition makes controlling his muscles difficult.
Liu, now 43, said he had a sense of inferiority ever since he was a child.
He was hit with a series of personal catastrophes when he was 19 years old: his father died and his mother remarried and left him near mental collapse.
During the following four years - in an abyss of suffering - his grandfather, Liu Hongkui, then 65, talked to him about the value of human life and ideals, encouraging him to boldly face reality and pursue a goal, and not to blindly blame the unfairness of fate.
The elder Liu's words touched him, giving him the courage to continue his life and walk out of the shadow of pessimism. He slowly learned how to be strong. He read the book How the Steel Was Tempered by Nicolas Alexyevitch Ostrovsky many times, along with Helen Keller's Three Days to Light, drawing inspiration, and new aspirations, from each reading.
In his own review of the two books, Liu wrote: "Compared with the hero and heroine, Paul and Helen, what did my setback matter? Now that I can see, hear and speak, why not cherish the good life? These hardships are nothing but a ditty in my long life ahead. I must use their examples to help motivate myself and live out a new self."
In 1995, when he was 23, Liu began a new life with a new attitude, focusing on reading books and newspapers, writing and doing physical exercises.
He frequented local libraries and bookstores, worked hard running track, read the local newspaper, Yingzhou Evening News, and watched TV programs. He would work until late at night, writing at a desk or typing on a computer.
In his essay A Journey with Dreams, Liu wrote: "Reading and writing is my spiritual pursuit, as more knowledge and more articles can enrich my thought and improve life quality. Meanwhile, doing physical exercise can bring in a new face to my mental outlook, enhancing my perseverance and strong will."
His hard work yielded bountiful fruit. Seven years later, in 2002, coach Zhang Gang from Jieshou City Sports Bureau found Liu and began to train him as a runner. In July 2006, he won two gold medals at Fuyang's 1st Paralympics and another at the 5th Paralympics of Anhui in October 2010. At Fuyang's Paralympics in March 2014, he won two golds.
Meanwhile, over the past decade Liu wrote more than 30 articles reflecting on life. His work was published in city, provincial and national newspapers, as well as on the Internet. He won more than 10 prizes for his writing.
Zhang Lin, publicity chief in Jieshou, a city administered by Fuyang, said he was impressed and moved by Liu's deeds.
"He is a person with disabilities, but he would not bow to his tragic life. He insists on reading and running, leading to his numerous prizes. I really admire him. This type of person deserves respect from us all."
Cheng Zhanpeng contributed to the story.
machenguang@chinadaily.com.cn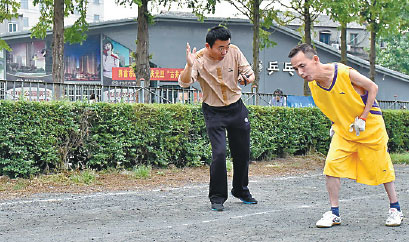 Coach Zhang Gang (left) of the Jieshou Sports Bureau trains Liu Wenxue in medium-and long-distance running at Jieshou People's Stadium on May 23.